Home

/

The 2017-18 Doctoral Hooding Ceremony and End of Year Reception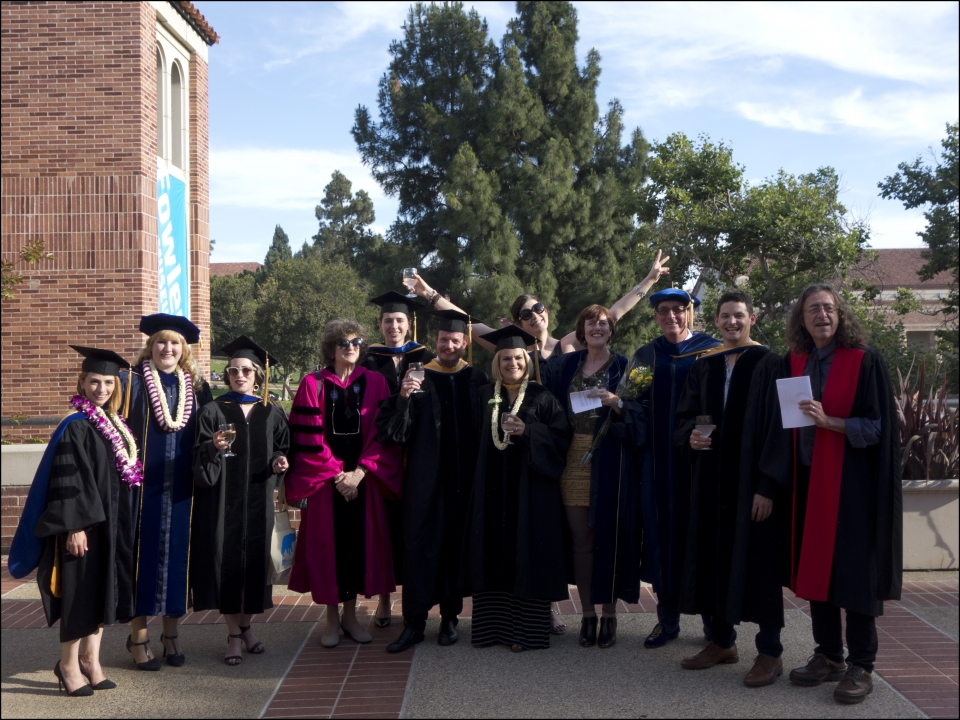 The 2017-18 Doctoral Hooding Ceremony and End of Year Reception
On Thursday, June 14, 2018, the UCLA Doctoral Hooding Ceremony recognized UCLA doctoral students who filed their dissertations and completed their degrees during the past academic year. A total of 9 Archaeology IDP students, as well as one affiliated student in Near Eastern Languages and Cultures, attended the Hooding Ceremony. In alphabetical order, these were: Caroline Arbuckle, Evan Carlson, Richard Ehrich, MaryAnn Kontonicolas, Kristine Olshansky, Deborah Sneed, Lyssa Stapleton, Marissa Stevens, Trevor Van Damme, and Chenghao Wen.
Directly following the ceremony in Royce Hall, they were acknowledged at a reception on the roof of the Fowler Museum. Also acknowledged at the reception, though not present, were the graduating students of the UCLA/Getty Master's in Conservation of Archaeological and Ethnographic Materials. In alphabetical order, these were: Morgan Burgess, Marci Burton, Mari Hagemeyer, Hayley Monroe, Lindsay Ocal, and Michaela Paulson.
In addition, the Institute bid farewell to Dr. Alan Farahani, who will start a tenure-track position at the University of Nevada, Las Vegas in the Fall, and to Matthew Swanson, who will start a PhD in English at UCLA. Dr. Wendrich also announced a symposium in honor of Professor Elizabeth Carter's scholarship upon her retirement. Finally, for her 15 years of invaluable service as the President of the Friends of Archaeology, Jill Silton was presented with The Trowel, the highest honor bestowed by the Cotsen Institute of Archaeology.