Ceramics of Postclassic Cholula, Mexico: Typology and Seriation of Pottery from the UA-1 Domestic Compound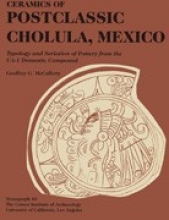 Backlist
Series:
Monographs 43
ISBN
: 978-0-917956-97-3
Publication Date
:
Dec 2001
Price
: Pb $9.95
Order this book here!
---
Geoffrey G. McCafferty
As the center for the religious cult of Quetzalcoatl, Cholula played a prominent role in shaping events of central Mexico's Postclassic period. Yet confusion over historical events in Cholula itself have limited its place in recent archaeological considerations of Mesoamerica. Since ceramic sequences are the backbone of archaeological chronologies, this confusion ultimately relates to problems in previous attempts to order archaeological time with ceramics. This book provides an innovative new classification of Cholula ceramics, based on artifact assemblages from primary depositional contexts recovered from the UA-1 excavations. A detailed and well-illustrated description of ceramic types is provided to construct a new classification system. These types are then seriated using collections from house floors and trash middens to suggest a new sequence spanning the Tlachihualtepetl (700-1200 CE) and Cholollan (1200-1550 CE) periods. The polychrome ceramics of Cholula have been described as among the most beautiful of Mesoamerica, employing vibrant colors to represent complex religious iconography of the Mixteca-Puebla stylistic tradition. By defining type and subtype variations in the polychrome ceramics, a foundation is created for a refined chronology as well as for recognizing intra-societal variability.