Home

/

CIoA Press Book Wins AIA McCann Award for Fieldwork Reports
CIoA Press Book Wins AIA McCann Award for Fieldwork Reports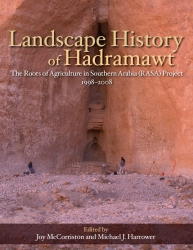 Landscape History of Hadramawt: The Roots of Agriculture in Southern Arabia (RASA) Project 1998-2008, published in 2020 by the CIoA Press, has been awarded the 2022 Anna Marguerite McCann Award for Fieldwork Reports presented by the Archaeological Institute of America (AIA). The book was edited by Joy McCorriston, professor of anthropology at The Ohio State University and Michael Harrower, associate professor of Archaeology at Johns Hopkins University. This final report of survey and excavations by the RASA project addresses the development of food production and human landscapes in Holocene Yemen.
In keeping with the Code of Ethics of the AIA, which emphasizes the need for archaeologists to publish the results of field research, the McCann Award goes to the report that it deems most worthy of recognition in that year. The Award will be presented at the January 6, 2022 annual meeting of the AIA in San Francisco.
When sharing the news, McCorriston offered congratulations to "all of our co-authors and especially to…the Cotsen Institute of Archaeology Press. This is a great testament to the value of slow scholarship and painstaking review and editing." Harrower added that "I really should emphasize … that the greatest share of credit to authors must go not to me, but to the first author Joy McCorriston. Many thanks also to Cotsen Press and Randi, in particular, who made this book a reality!" Randi Danforth is Director of Publications, Cotsen Institute of Archaeology Press.
Additional congratulations were offered by Aaron A. Burke, Editor-in-Chief, CIoA Press, professor of Near Eastern Languages and Cultures and core faculty member of the Cotsen Institute, who proclaimed that the award is "much deserved for a wonderful volume." The sentiment was echoed by John Papadopoulos, professor of Classics and core faculty member of the Cotsen Institute, as well as by Willeke Wendrich, director of the Cotsen Institute of Archaeology at UCLA.
Since 1975, the CIoA Press (formerly the Publications Unit) has served to preserve cultural heritage through the documentation and publication of scholarly archaeological research. Specializing in the production of high-quality academic volumes, the Press publishes about 4-8 titles per year in seven different series. For further information on the publications of the CIoA Press, check out the Online Catalog. 
Published on
December 13, 2021
.