Home

/

The Cotsen Institute Welcomes New Office Manager Alfonso Lopez
The Cotsen Institute Welcomes New Office Manager Alfonso Lopez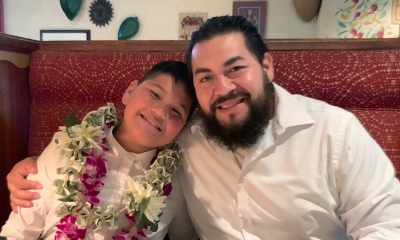 It is said: "It does not take much strength to do things, but it requires a great deal of strength to decide what to do." This is especially true when it comes to being office manager at the Cotsen Institute, where solving problems and getting things done is practically the definition of the job. The responsibilities of the office manager include purchasing, inventory and equipment management, facilities service requests, key inventory and distribution, and travel reimbursements, according to Bronson Tran, chief administrative officer of the Cotsen Institute. Fortunately, Alfonso Lopez, who was recently named office manager and assistant to the director, has extensive experience and nearly a decade of hands-on involvement at UCLA—at this time mostly remotely—dealing with the many requirements of this important post. "Alfonso (who likes to be called Fonz) literally hit the ground running on the first day of the job and has been delightful to work with," Tran noted. "He takes pride in his work. That shows not only in tasks getting done, but in keeping all involved parties up-to-date with timely, relevant information. His positive attitude is contagious and impactful, even through remote work. His experience, knowledge, and expertise as an office manager are immediately apparent when discussing issues or concerns within his purview," Tran added. Below are excerpts from a recent interview with Lopez.
Roz Salzman: First, Welcome to the Cotsen Institute. I know people are very excited about filling this position with someone as qualified as yourself. How did you get started in your career?
Alfonso Lopez: I attended El Camino College and California State–Dominguez Hills. I started working at UPS while I was in school, and after one year was offered a supervisorial position. I stayed for an additional four years, gaining a lot of experience in operations and supervision at their hubs, including in Gardena and at their main facility in Los Angeles. I worked with packages coming in and going out, loading and unloading trailers, sorters, and forwarding packages to their destinations. I would train and oversee fifteen employees to load trailers. I also had to make sure that they worked safely, did what they were supposed to do, and give them positive and constructive feedback. All of this had to be at a very fast pace, because you have to communicate with the sorter to make sure that no trailer gets hit all at once, as well as coordinate with dispatch to have them provide you an empty trailer when needed. If you have to stop a conveyor belt, you delay production for everyone in the hub. I was always looking for efficiency.
RS: That must have provided you with a lot of great logistics experience. Where did you go after that?
AL: My other jobs included being a supervisor at Pitney Bowes where I was in charge of more than sixty employees in the night shift. We did "presort and first class mail," where our job was to help the post office. So when the post office had too much work, we used our own machines, Pitney Bowes, the same machines that the post office has. After seven months, I was promoted to regional assistant operations manager and stayed with the company for another two years.
RS: You have been at UCLA for ten years now. What were you doing before joining the Cotsen Institute?
AL: My first job at UCLA was in the pediatric cardiology department, where I was the catheterization coordinator for two years. Then I moved to the cardiology department and became executive assistant to the chair. There I handled reimbursements, purchasing, the executive's calendar, many different things, as well as operations. That is where I really learned a lot of skills.
RS: You wanted to pursue a career in operations, right?
AL: Yes, I started with about 50% of my responsibility in operations, then was promoted to operations manager for cardiology. I was in cardiology for six years, then had an opportunity to go to pathology, which is where I was before joining the Cotsen Institute in October 2020.
RS: It sounds like you bring a lot of great experience to the Cotsen Institute. Tell us what your responsibilities here are.
AL: First there is purchasing. We have a process that everyone must go through, which starts by submitting a request by e-mail to travel@ioa.ucla.edu. I then follow up on those inquiries. I will also be doing travel reimbursements, once people start traveling again. Those requests should be submitted through the same e-mail account. I will not be making travel arrangements, except for the director of the institute and perhaps for a guest speaker if arrangements for that person need to be made.
RS: We do not necessarily think of the Cotsen Institute as having much of an inventory to manage, but that seems to be a big part of your job.
AL: Yes, I am responsible for keeping track of all of our capital equipment; all of our major big instruments and equipment. This has to be calculated and reported every year.
RS: And you have major interactions with facilities services.
AL: Well, we have a lot of renovations and relocations that we are working on; there are leaks and some pest control issues that needed to be taken care of; and issues with our office temperature controls. Anything that involves facility requests, along those lines, then I am the one to take care of you. You can personally contact me at alfonso@ioa.ucla.edu. My working hours are Monday–Thursday, 7 am.–6 pm.
RS: Is there anything else that you will you be handling?                                                            
AL: As said, inventory and distribution, including key management and keeping track of those keys. Plus, I have an Emergency Management Certification and will be working on emergency and safety planning for the Cotsen Institute.
RS: What do you do to relax?
AL: I like to ride my bike along the Los Angeles River, sometimes with my kids: Aiden, who is 12 (see photograph), and Malia, who is 11.
Lopez is part of a true blue Bruin family: his wife, Mary Lopez, is academic personnel manager in the Office of Human Resources of the UCLA Samueli School of Engineering.
To support research and teaching of the Cotsen Institute, or for more information, please contact Michelle Jacobson at mjacobson@ioa.ucla.edu.
Published on
December 9, 2020
.