Home

/

The Cotsen Institute Welcomes Sarah Beckmann
The Cotsen Institute Welcomes Sarah Beckmann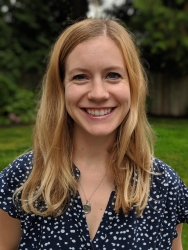 Sarah Beckmann, assistant professor in the Department of Classics, has recently been appointed core faculty member of the Cotsen Institute. Beckmann describes herself as a Roman archaeologist specializing in domestic art and the archaeology of the Western Roman provinces. She joined the Department of Classics in 2018, after having spent a year of adjunct teaching in both Philadelphia and Los Angeles. Beckmann received her PhD in the art and archaeology of the Mediterranean world from the University of Pennsylvania. As a doctoral student, she was a Fulbright scholar in France (2014–2015) and the 2013–2014 recipient of the Archaeology of Portugal Fellowship of the Archaeological Institute of America.
"Because the Cotsen Institute is an interdepartmental group and my specialty is Roman material culture, even during my interview there was an understanding that I would be invited to join the Cotsen Institute as an archaeologist," Beckmann said. At the Cotsen Institute, "all the faculty know archaeology, so you do not have to explain your research or why it is important. You do not have to prove that what you do matters."
According to John Papadopoulos, professor in the Department of Classics and a former chair of the interdepartmental archaeology program at the Cotsen Institute, Beckmann is a veritable secret weapon as an undergraduate teacher in Classics. "Sarah is introducing and engaging a new generation of students to the joys of the Roman world on the Italian peninsula and throughout the Mediterranean. She has been a wonderful boon for both the Department of Classics and the Cotsen Institute, teaching a broad variety of courses in Roman and Etruscan archaeology and visual culture. Sarah has already stepped up to the plate in working with several of our graduate students in the archaeology program."
Beckmann thinks of her position in the Cotsen Institute as focusing on graduate students who are interested in Roman material culture and archaeology. "There is a PhD in Classics, but usually PhD students in classics concentrate on languages and literature. If they are really interested in visual culture or objects, they tend to apply to the Cotsen Institute." One of the ways she sees the Cotsen Institute fitting in with her work is through research for her book on late Roman villas. "Right now I am looking to use the Cotsen Institute to help me develop new architectural plans, work on digital reconstructions, and much more. For me, I see it as a boon for my research to be able to use some of the resources here."
"I actually teach most of my material culture classes for undergraduate students in Classics, because of the way courses are listed with the registrar," Beckmann pointed out. However, a graduate seminar on the Roman house that she taught last spring included three archaeology students, along with students in classics, art history, and political sciences. The Fall quarter she taught a course on the city of Pompeii, in which she had a chance to focus on non-elites. "The elite focus in classical archaeology is often hard to get around because that is where most of our artifacts come from," she explained. But in this class, "we were thinking about different levels of society; how do you find the people who are not high status; where do the poor live; and where do the slaves fit in." Teaching this class helped her formulate a new approach to her book to "bring back all the human actors who are associated with the villa: the people who actually ran the villa when the owners were not there. Were there tenant farmers and slaves, and where did they live?" Beckmann is interested in the economic angle of the villa in Late Antiquity because in the literature it is usually discussed as a projection of status but, according to Beckmann, many villas have an economic component. "It makes you rethink the identity that we have for these late Roman politicians who presumably owned the villas. Were they born with their high status or did they achieve this because they obtained financial capital from making wine, olive oil, or fish sauce (garum)?"
In addition to her teaching, Beckmann has spent the last year writing articles on the sculpture studies that she did for her dissertation. One of the articles is on a series of large-scale reliefs that were found in a villa in southwestern France. "They are huge, and there are more than two dozen of them," she said. "It is the kind of marble art that you usually see in a civic context on a theater or something public, and here they are on a private villa," she continued. For example, there are depictions of the labors of Hercules and shield medallions of gods and goddesses, and one historic relief of an official presiding over games. "In Roman art, you do not see historic reliefs in houses," she pointed out. "This looks like urban display; the urban rhetoric of civic presentation, but in a private context. I am arguing that this shows that the villa is not just a domestic structure; rather it blurs the boundaries between public and private, as well as between urban and rural in Late Antiquity."
"I am writing primarily for archaeologists and historians who work on the Roman world, especially those who focus on the provinces or the late antique period. But I would also like to make it accessible to non-specialists and possibly students. What I have found in the last two years of teaching is that it can be difficult to find good scholarship at an undergraduate level because a great deal of background is required. So I have thought a little about trying to write an introductory chapter that covers the basics in a fresh way: what is the villa; how does it vary in different parts of the Western Roman provinces; and how do people negotiate "Romanness" alongside more local, cultural institutions and identities using material structures like the villa?"
Beckmann recently discussed some of these same ideas in her presentation "Archaism and Atrium Apartments in the Late Antique Villa" at the annual meeting of the Archeological Institute of America held in Washington D.C. In addition, she was the co-presenter, together with Amy Richlin, also at the Department of Classics at UCLA, of "Child Slaves in the Villa of the Mysteries Fresco," which partly resulted from the discussions of a fresco in her class on Pompeii in the Fall.
Published on
January 24, 2020
.