Home

/

Cotsen Welcomes Back Jason De León as Professor and MacArthur Fellow
Cotsen Welcomes Back Jason De León as Professor and MacArthur Fellow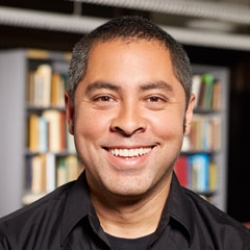 The basement corridors of the Cotsen Institute of Archaeology (CIoA) don't seem particularly enticing, but what happens in those offices and hallways was a major part of the draw for Prof. Jason De León, when the former Bruin returned to UCLA this fall as professor in the Department of Anthropology and Chicana/o Studies and core faculty of the Cotsen.
De León, who was recently profiled by the UCLA Newsroom, explained his desire to be part of the Cotsen as he sat in his lab, now dedicated to the Undocumented Migrant Project, his monumental undertaking involving the long-term study of undocumented border crossings, combining ethnographic, archaeological, visual, and forensic approaches. He is very familiar with the lab because it is where he worked as an undergraduate, when it was the Channel Islands lab.
Surrounded by boxes holding thousands of artifacts from the project, the 2017 MacArthur "genius" award recipient described how he can "walk around this space (the Cotsen) and encounter people who are thinking about things in similar ways:  archaeologically…about history and memory…about material culture…but also with radically different approaches." Although he has an office in Haines which he goes to for office hours, he said he would "rather be down here, talking to folks about exhibitions and excavations" and all things related. "Everybody comes together from all these different departments. For me, that is a huge attraction," he emphasized.
UCLA "was always the number one place I wanted to be," he continued. "A big part of it was that for almost ten years at the University of Michigan, I never really got to be an archaeologist. I was 100% socio-cultural anthropology, even though I was doing quite a bit of archaeology," he explained. "I've also known Willeke Wendrich (director of the Cotsen) and Tom Wake (assistant adjunct professor, Department of Anthropology) for many years. There were folks here who were really receptive, not just to me coming back individually, but to the projects I am working on."
The distinguished author and internationally-respected documentarian of the plight of migrants and refugees is working on a lot of projects. He describes his Undocumented Migrant Project (UMP) as an umbrella name for "about a million things that we are doing. There are projects that I'm running directly, and then there are all kinds of other projects that my students are doing, whether they are undergraduate or graduate students." One of the courses he is currently teaching is a graduate seminar in photoethnography, where they explore the role that photography plays as a field method and data source in an ethnographic context. He also has a small, dedicated darkroom in the Cotsen because students are doing a lot of their own photography (with his guidance), and they now have a space to develop film, scan photos, print photos, etc. "We do a lot of photography for the exhibition work that we are doing," he noted, much of which involves the printing and developing of film.
In his efforts to reach the general audience, as well as targeted audiences, De León has just started a non-profit to support the exhibitions in international communities that can't afford to do it themselves. Places like Morocco and Lampedusa, Italy, which are the first landing points for refugees. "Like the work in Morocco or southern Italy or Mexico, we are going to be working with refugees and migrants in those communities to build those exhibitions to record their stories and do outreach. Part of our fundraising effort will go towards getting kids to tell their stories and to educate the public. Being in Los Angeles, we are trying to do outreach to the general public here off-campus.
"People see that there are a lot of parallels between what is happening at the U.S./Mexico border and what is happening in the Mediterranean; what is happening in Venezuela" he explained. "We are trying to make that connection, too. We are saying that migration is a global crisis. Rather than thinking about these things as happening in a vacuum, this is an issue that everybody in the First World is going to have to deal with because of things like climate change and growing inequality and even historical similarities," he continued. For example, he has many partners in Germany who are trying to draw parallels between people who were fleeing the Nazis and seeking refuge.
To learn more about the work, there are many ways people can access it. They can read his book, "Land of Open Graves: Living and Dying on the Migrant Trail," which is "fairly readable," De León says he has been told. There is also a three-part Radiolab podcast that aired about 1 ½ years ago that is basically the audio version of the book, according to De León. It can be downloaded for free. "Rather than just me telling the story, it is Radiolab going down different rabbit holes, talking to folks who were featured in the book and passing along their stories. You get my book in three different episodes, and it is an easy way for people to get a handle on what we are doing."
In addition, there is the website where they can learn how to support our projects by donating or participating. "We are trying to do a lot, especially here in L.A. We will do four or five Southern California shows. Hostile Terrain 94 is where there is a lot of the show information and dates. The next California event is a show at UC Santa Barbara in January. It will have a toe tag wall, and they are going to build it slowly." The centerpiece of this exhibition is a wall map of the Arizona desert decorated with handwritten toe tags that indicate where migrants have died while attempting to cross the border. At UCSB, They will have the 3000 tags in a box. Visitors will come in, and one at a time install the tags. "It will take as long as it takes for them to mount it, whether it is one month or three months," he explained. De León will give a talk there for the opening, but the date has not yet been finalized.  The show is scheduled for 175 locations across the country between September 2019 and November 2020. For his full schedule, check his website.
He will also be the featured speaker on February 11 at the Friends of the Cotsen lecture, which will be open to the public here on campus. He will speak on "The Land of Open Graves: Making Undocumented Migration Visible." For information on the lecture, contact Michelle Jacobson.
The Undocumented Migration Program was cited in a recent article in The New York Times discussing a special exhibition at the Phillips Collection in D.C. on "The Warmth of Other Suns."  One of the rooms of the exhibition pairs abstractions by artist Mark Rothko with interviews with Mexican migrants recorded by the UMP and played on speakers in the exhibition.

 Image credit: John D. & Catherine T. MacArthur Foundation
Published on
November 7, 2019
.