Home

/

Hiring Tenure-Track Assistant Prof. in Conservation of Cultural Heritage
Hiring Tenure-Track Assistant Prof. in Conservation of Cultural Heritage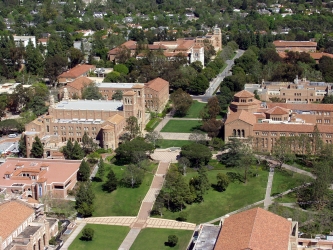 Location 
UCLA campus in Westwood and Getty Villa in Malibu, California
Description 
The UCLA/Getty Interdepartmental Degree Program (IDP) in the Conservation of Cultural Heritage invites applications for a tenure-track faculty position to begin July 1, 2022. The appointment will be split 50:50 between the UCLA/Getty Conservation IDP and an appropriate home department depending on area of specialization. For instance, current faculty are located in Art History, Information Studies, and Materials Science & Engineering. Faculty duties include teaching at the graduate and undergraduate level, research, service, and supervision of student research in both the Conservation IDP and the home department.
Candidates should hold a Ph.D. in the conservation of cultural heritage, materials science, chemistry, materials engineering, anthropology, art history, or another closely allied discipline. An additional Master's degree in the conservation of cultural heritage is preferred. The successful candidate will have experience in teaching and curriculum development. Preference will be given to candidates who conduct research in the chemistry, properties, degradation and conservation of archaeological and Indigenous cultural heritage materials, including metal, stone, ceramic and glass. Preference will also be given to candidates with experience working in collecting institutions, at archaeological sites, or with stakeholder communities. Strong candidates will have a demonstrable record of work within the Program's core values of collaboration, sustainability, and diversity, equity, & inclusion.
The successful candidate will pursue an ambitious multidisciplinary research agenda, be able to bridge fundamental scientific and cultural knowledge, and incorporate the conservation of cultural heritage in their research and teaching. They will address conservation science fundamentals and materials characterization as they relate to cultural heritage in their teaching.
The UCLA/Getty Conservation IDP is the only academic program in the Western United States devoted to cultural heritage conservation. The three-year MA degree educates students in the theory and practice of conserving archaeological and Indigenous cultural heritage. The doctoral program engages students in a broad range of research within the conservation of material culture. The Program is embedded in the Cotsen Institute of Archaeology at UCLA and has state of the art teaching labs at the Getty Villa in Malibu. There are rich interdepartmental research opportunities at UCLA and potential for research partnerships with other academic and cultural institutions.
Interested candidates should submit application materials via UC Recruit at https://recruit.apo.ucla.edu/JPF06861. Each application should include: (1) Statement of Interest (1 page) describing qualifications and interest in the Program, (2) Statement of Research, (2 pages), (3) Statement of Teaching (2 pages) including classes the applicant is prepared to teach, (4) Equity, Diversity, and Inclusion (EDI) Statement (1 page), (5) Curriculum Vitae, (6) Three Publications or writing samples (7) Names and email addresses of three Reference. Please refer to the UCLA Guidance for Candidates for information on EDI Statements: https://equity.ucla.edu/programs-resources/faculty-search-process/faculty-search-committee-resources/sample-guidance/.
Salary is commensurate with education and experience.
Candidates must complete their application by November 15, 2021 to ensure full consideration. After the initial review date, new applications will only be considered if the position has not yet been filled. For more information about the Program or the position, contact Glenn Wharton, Program Chair, at glennwharton@ucla.edu.
The University of California is an Equal Opportunity/Affirmative Action Employer. All qualified applicants will receive consideration for employment without regard to race, color, religion, sex, sexual orientation, gender identity, national origin, disability, age or protected veteran status. For the complete University of California nondiscrimination and affirmative action policy, see: UC Nondiscrimination & Affirmative Action Policy.
Published on
October 18, 2021
.