Home

/

Liz Carter Honored With a Two-Day Symposium
Liz Carter Honored With a Two-Day Symposium
With much warmth and great respect, former students and colleagues paid tribute to Professor Emerita Elizabeth Carter during a two-day remote symposium, September 25–26, 2020. International attendees celebrated four decades of scholarship and mentorship surrounding the four corners of greater Mesopotamia, where Carter and her students worked on a myriad of subjects. In fact, the wide range of her studies and the extent of her knowledge about diverse regions was a focus of a number of the tributes.
The event was spearheaded by Willeke Wendrich, director of the Cotsen Institute of Archaeology, who welcomed everyone "to honor Liz, her scholarly work, and her contributions as a colleague and a mentor." Wendrich pointed out that participants represented multiple generations, speaking to Carter's long-standing power as an educator and their desire to honor her work. Carter always showed enormous flexibility in an ever-changing work environment, Wendrich noted, because there was often strife in the Near East. "This flexibility was also evident in the students she accepted and the freedom she gave them to follow their passions and interests. Among our speakers, you see people who have found their own way, but with Liz's hand in there to stimulate and to help," explained Wendrich, who has been Carter's colleague for twenty years.
The sessions were moderated by Lynn Swartz Dodd, who studied with Carter as a graduate student at the Department of Near Eastern Languages and Cultures (UCLA), and who was credited by Wendrich as having been, "the person who wrangled everybody." Even though everyone was willing, Wendrich added, "wrangling is something that is always necessary because we are all busy people." Dodd noted that the diversity of presentations "brings to mind the range of Professor Carter's archaeological work and career, which includes surveys in Iraq and Turkey; excavation as the only female archaeological assistant to be sent from the United States to work at Susa, in the Zagros Mountains of Iran, in her first year there and excavation of funerary and domestic contexts from the Neolithic, Early Bronze Age and beyond."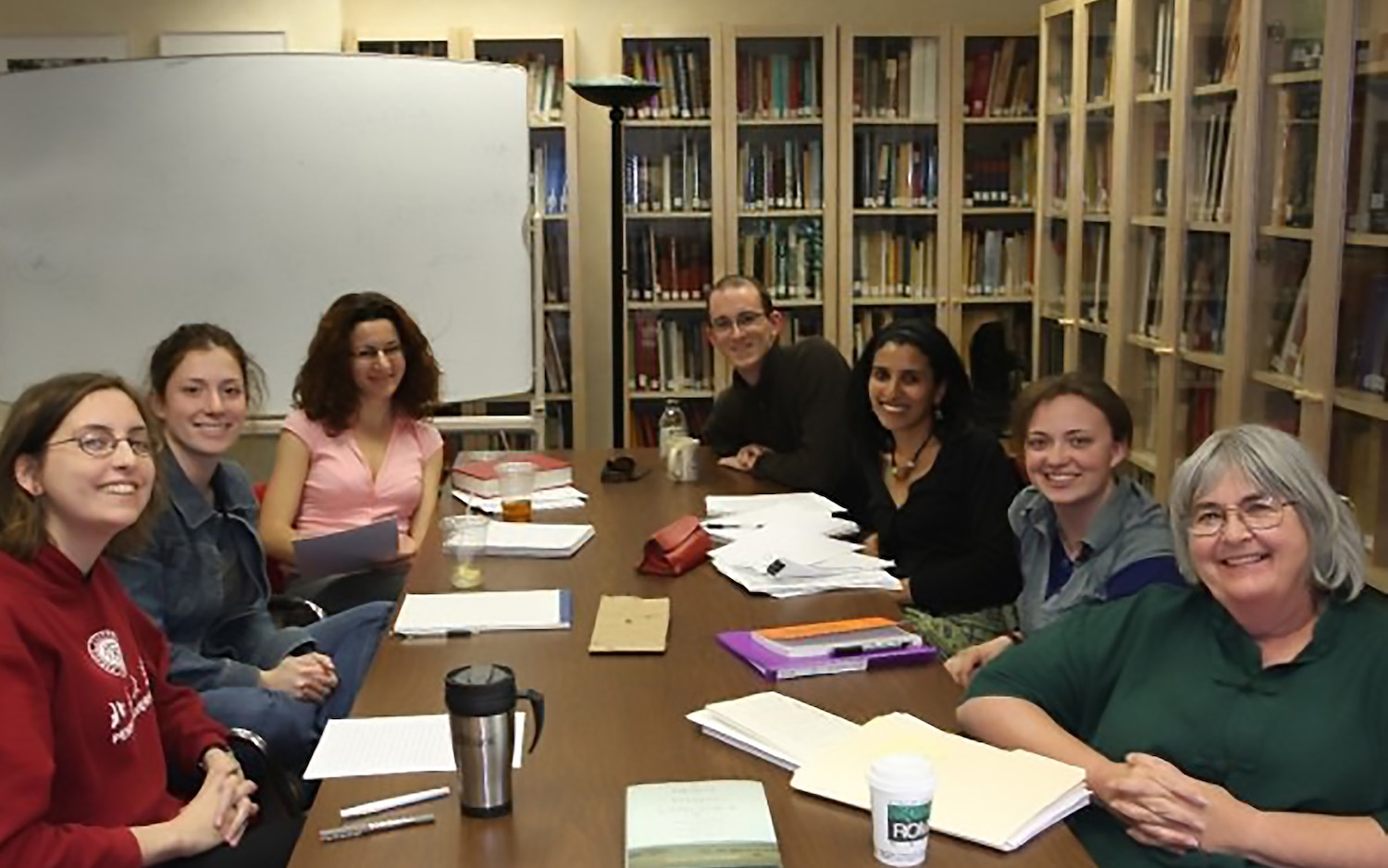 After the event, Carter said, "it was fun for me to be able to get back in touch with some people I had not seen for a long time." Even though she had an idea of who would be speaking, she did not know the specifics of what everybody would be talking about. During the question-and-answer session after each presentation, Carter was the first one to ask questions about the projects discussed. "It was great to see new finds; that they are out digging, working, and doing research," she added. When planning for the program began about two years ago, it could not be held because Carter was in Japan. It was postponed until this year, when Covid-19 intervened. "We originally thought it would be a usual kind of thing, with some lectures in the auditorium and a reception" Carter explained. "But it turned out that the online format was great because by having the presentations remotely we could hear people from all over the world, who might otherwise not have been able to participate in person," she added.
The first speaker was Cigdem Atakuman, associate professor at the Middle East Technical University, Ankara, Turkey, whose presentation dealt with recent findings similar to those of the Late Neolithic site of Domuztepe in Southeast Turkey, where she worked with Carter in the 1990s. She stressed that all the speakers have the same connection: Liz. On a personal note, she addressed Liz saying: "Dear Liz - you changed my life, and I cannot thank you enough." Atakuman graduated from the archaeology program at UCLA in 2004.
Yoko Nishimura, PhD 2008, assistant professor at Gettysburg College, was the second speaker, addressing evidence of material wealth disparities in two neighborhoods in a third millennium settlement in southeastern Turkey. Nishimura's research and teaching range from ancient Japan to Turkey. She pointed out that she and Carter share similarities in that they specialize in several regions.
Stuart Tyson Smith, PhD 1993, the third speaker, is professor of anthropology and director of the Institute for Social, Behavioral, and Economic Research at UC Santa Barbara. His presentation was on "Racism, Egyptological Stereotypes, and the Intersection of Local and International Style at Kushite Tombs." Smith has also been a consultant recreating spoken Egyptian on several movies.
Following was Michael Moore, whose research focuses on identity, power, and agency in the royal courts of the Late Bronze Age. He discussed "Body and Spectacle in Ancient Egypt: Egyptian Courtiers in Cross-Cultural Perspective." One of the last students Carter mentored, Moore received his PhD in 2018 in ancient Near Eastern studies from UCLA.
The first day closed with a presentation by Mitchell Allen, PhD 1997, research associate at both the Archaeological Research Facility at UC Berkeley and at the Department of Anthropology at the Smithsonian Institute. Additionally, in his 40-year career in scholarly publishing, he was responsible for the publication of more than 1500 books and starting 25 journals. His topic was "Ajar in Sar-O-Tar: Parthian Storage Facilities in Ancient Sistan." He described his presentation as attempting to address questions regarding groups of large storage jars embedded in the landscape, "following Dr. Carter's innovative ideas concerning ancient storage."
The second day of the celebration started with a brief introduction by Wendrich, who noted that "it is very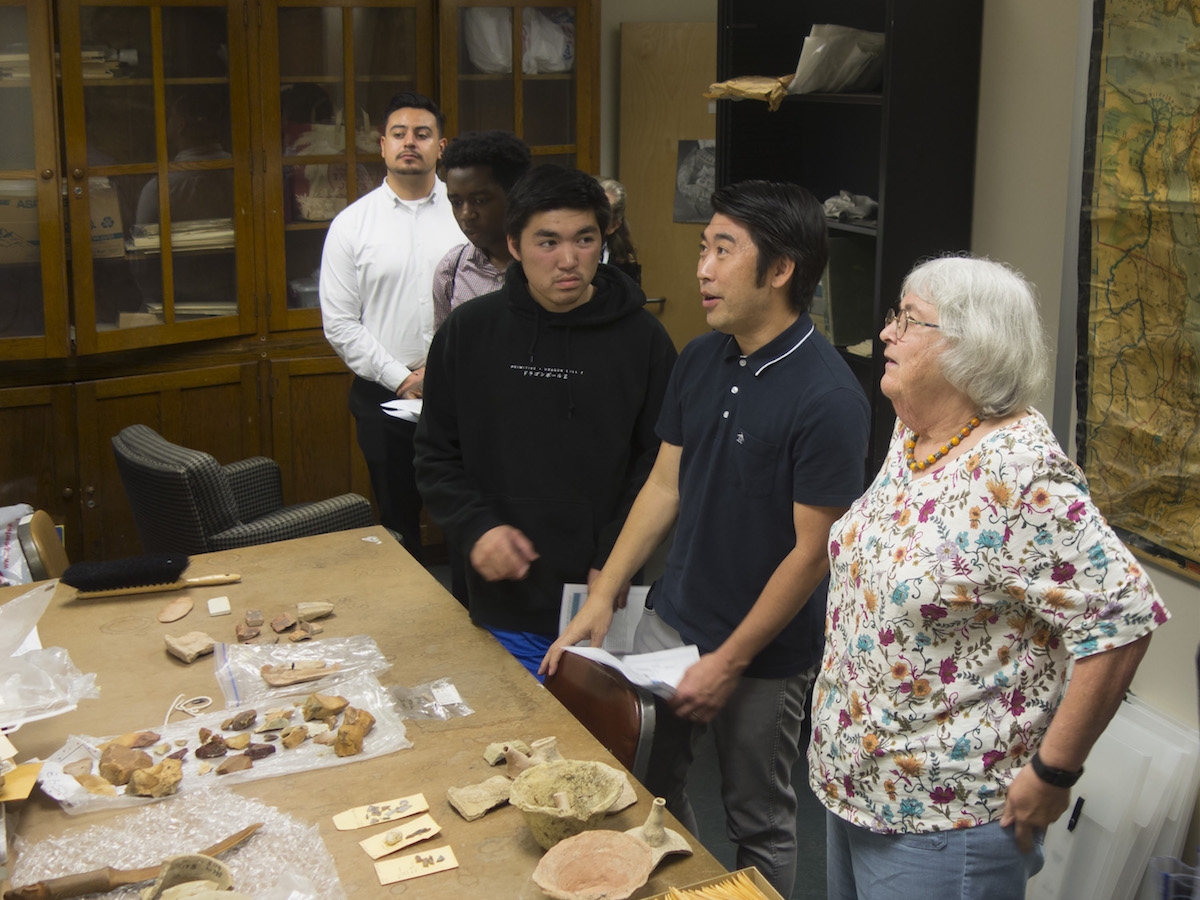 clear that the depth and breadth of Professor Carter's way of studying the Near East and Mesopotamia is reflected in the diversity of the positions held by some of our very distinguished speakers, as well as in the contributions they are making to the field of archaeology. It is a very distinctive inheritance." She also announced the formation of a fund, started by Dodd, in honor of Carter, that will be used for grants for students for travel and possibly more. "We will talk to Professor Carter about ways to use these funds to support archaeology in the fields that are closest to her heart," according to Wendrich. The goal is to raise $25,000 to create an endowment that will bear the name of Professor Carter and support students in perpetuity. Dodd recounted that, while a student at UCLA, she had received funding from the Friends of Archaeology and that "it made all the difference, allowing me to participate in research that became the start of my life in archaeology."
Dodd thanked Wendrich for leading the charge in making arrangements and contributing to the formative experience of those of us who have passed through the Cotsen Institute. She also acknowledged the really exceptional contributions of Michelle Jacobson, director of development for the Cotsen Institute, and Deidre Brin, director of the Digital Archaeology Laboratory. To Carter, she said, "we honor everything that you have contributed to us as scholars and colleagues. Many of us have enjoyed meals with you and visiting scholars of equal renown…and recall the conversations about the backroads of Turkey, Persian proverbs, and the happenings of the families in the villages where you worked for so long. You share with us your appreciation for and sensitivity to people, lifeways, and material culture, then and now."
Beginning the session was Sarah Whitcher Kansa, executive director of the Alexandria Archive Institute and her husband, Eric Kansa, program director of the Open Context project developed by that institute. They discussed "Open Context Project #3: Lessons in Building Open Data from a Multi-Year Excavation Project." Open Context is an archaeological data publishing platform containing nearly 1.7 million records of artifacts, ecofacts, maps, and field notes from 150 different research projects worldwide. Carter refers to these two presenters as indirect students. She worked with them in Turkey when they were both postdoctoral scholars and then supported them in their efforts to found the Alexandria Archive Institute Open Context project. "In fact, they got engaged on my excavation," Carter noted. Kansa added that, "we would like to highlight ways in which Liz has mentored people who were not her students. We were young graduate students when we first met her. She has been on the board of Open Context since its inception and helped keep us going. Without her, we would not have even gotten started. Her role has been absolutely essential."
The second presentation on Saturday was made by Hannah Lau, lecturer of University Studies at Colgate University, and Sarah Whitcher Kansa. They discussed "Animal Management Practices in 6th Millennium Anatolia: Evidence from Tell Kurdu and Domuztepe." Lau received her PhD in archaeology from UCLA in 2016.
Continuing the program was John "Mac" Marston, associate professor of anthropology and archaeology and director of the program in archaeology at Boston University. He presented: "Towards Reconstructing an Achaemenid Agricultural Policy in Central Anatolia." He specifically commended "Liz's guidance and feedback when working on my dissertation at UCLA." He received his PhD in archaeology in 2010.
Following this was a presentation by Joseph "Seppi" Lehner, an Australian Research Council Discovery Early Career Fellow at the department of archaeology of the University of Sydney. His topic was "Resiliency or Fragility: How Industry Drove Social and Environmental Change in Ancient Arabia." He added "many thanks to Liz, without whom I could not have been able to set off on my dreams and aspirations as an archaeologist and as a better person. She will always be an inspiration to all of us who form a large, extended family." He received his PhD in archaeology in 2015 under the supervision of Carter.
The next speaker was Brendan Burke, associate professor at the University of Victoria, British Columbia. He addressed the question: "An Anatolian at Late Bronze Age Eleon in Central Greece?" Burke received his PhD in archaeology from UCLA in 1998. He notes that through Liz Carter he developed a great interest in the archaeology of Turkey, which he brings to his teaching and research.
Closing remarks were made by Dodd, who is associate professor of the practice of religion and spatial sciences at the USC Dornslife College of Letters, Arts and Sciences. Dodd studied with Carter as a graduate student in Near Eastern Languages and Cultures and received her PhD in 2002. She thanked all the speakers for their exceptional presentations with "wonderful diversity of information, approaches, and data, reflecting well on all and on the influence and impact of their work with Liz, who has been a steadfast supporter of a diverse group of scholars and this program from which we all emerged."
At the conclusion of the two-day event, Carter told the participants that she was, "overwhelmed and fascinated. I look forward to seeing more of your work and am delighted that you are still having great ideas. This has really been fun for me."
To make an online gift to the Elizabeth F. Carter Fund in Archaeology, please visit https://ioa.ucla.edu/giving. Be sure to include "In honor of Dr. Elizabeth Carter" when prompted. If you prefer to send a check, please make it out to the UCLA Foundation/Friends of the Cotsen Institute and include "For Dr. E. Carter" on the memo line and mail it to: UCLA Foundation; P.O. Box 7145; Pasadena, CA 91109-9903. For any questions or concerns, please contact Michelle Jacobson at mjacobson@ioa.ucla.edu.
Figure 1. Elizabeth Carter teaches Archaeology Core Class II during the Winter quarter of 2008. From left to right: Anke Hein, Holly Warner, Esmeralda Agolli, Seppie Lehner, Sonali Gupta-Agarwal, Anne Austin, and Liz Carter.
Figure 2. Elizabeth Carter shows visitors her laboratory in the Cotsen Institute during the Open House of 2019.
Published on
October 12, 2020
.