Home

/

Meet Siva Losakul: Offering Help With Your Computer
Meet Siva Losakul: Offering Help With Your Computer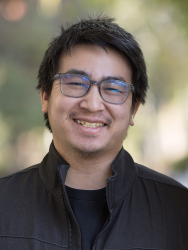 Most of us will at some point need help with our computer, software, or the attached devices. Maybe some assistance in failing applications or figuring out what product would work best for your specific project? Meet Siva Losakul, who probably can provide answers to your questions and untangle your digital glitches. Our new departmental technology analyst describes himself as a computer geek, with his main responsibility as "fixing most technological issues that people have." These can be as basic as a computer not turning on, information on upgrading or purchasing a new device, and troubleshooting email problems. He compares himself to the Geek Squad at Best Buy, or to the Apple genius bar, both of which he has worked at as a technical support expert.
He even does new computer set-ups for staff and faculty, which have kept him busy for the first few weeks he has been on the job, as well as helping out postdoctoral researchers and graduate students. Once people discover he is available, they start coming in, he noted. For someone who really enjoys computers, this job was ideal. The most common problem he encounters is when people are trying to get older hardware to keep up with modern technology. Losakul spends a lot of time trying to stay current with what is out there; especially all the new releases. He says, "I can give you two options. One is to attempt to upgrade your computer as a temporary measure, but I don't know how long that will last. We can also look into a newer solution, which might seem like a greater cost at the start, but is really going to help you in the long run."
Many people are afraid of upgrading or changing because they do not want to lose any data, he added. "However, UCLA offers a lot of free options to backup your data," he explained. "Furthermore, both Mac OS and Windows have their own backup solutions. It is just up to the user once they know about those options. We can always explore these avenues together," he offered. His experience working with consumers and academics has been similar, he notes, but the academic questions are more straight to the point. "I do appreciate all the academics who know what they want or who can identify the problem that they have."
As a native of Burbank, California, where he currently lives, Losakul enjoys playing computer games in his spare time and often finds himself in gaming arcades with his friends. "But I'm trying to get back into golf," which he started to play when he was four or five years old. He was even on the golf team at John Burroughs High School.
Faculty, staff, and students of the Cotsen Institute can contact Siva Losakul at slosakul@ioa.ucla.edu.
Published on
March 16, 2023
.