Home

/

Mozan Project Spearheaded by Giorgio Buccellati and Marilyn Kelly-Buccellati Receives Distinctions
Mozan Project Spearheaded by Giorgio Buccellati and Marilyn Kelly-Buccellati Receives Distinctions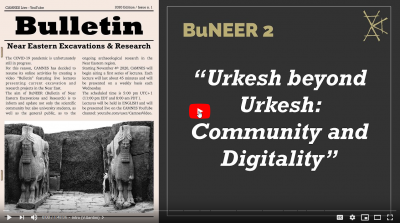 The Tell Mozan/Urkesh Archaeological Project in Syria received the first prize from the European Union for Heritage-led International Relations, presented virtually from Sofia, Bulgaria, by the European Commission for Culture and the Director of Europa Nostra. This project, which has been spearheaded by Giorgio Buccellati and Marilyn Kelly-Buccellati, had earlier received a supporting grant from the Ministry of Foreign Affairs and International Cooperation. A video registration of the event can be viewed here (the sections on Tell Mozan/Urkesh start at 18:38 and 1:20:39).
In addition, a lecture about the past, present, and future of the ancient site of Urkesh was presented by collaborators of the Tell Mozan/Urkesh Archaeological Project and the Italian Association for Furthering Value Archaeology and Ancient History, including nine from Syria, Italy, Greece, and China. This event was organized by the Center for Ancient Mediterranean and Near Eastern Studies in Florence, Italy, and part of the Bulletin of Near Eastern Excavations and Research. A video registration can be viewed here.
Giorgio Buccellati is professor emeritus of the departments of History and Near Eastern Languages and Cultures at UCLA and the founding director of the Institute of Archaeology (now the Cotsen Institute of Archaeology). He is currently the director of the Mesopotamian Laboratory. Marilyn Kelly-Buccellati is professor emerita of archaeology and art history, California State University–Los Angeles. They have worked for many years in the Near East and served as directors of the archaeological expedition to Tell Mozan/Urkesh. Their careers were recently featured in a volume of studies honoring their work.
Published on
December 1, 2020
.