Pacatnamu Papers Vol. 2, The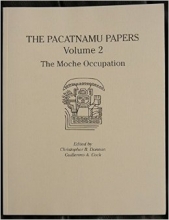 Backlist
Publication Date
:
Dec 1997
Price
: Hb $14.95, Pb $9.95
---
Christopher B. Donnan and Guillermo A. Cock
This volume includes the results of a five-year excavation (1983-1987) at Pacatnamu, Peru, combining archaeological excavation with physical anthropology, botany, zoology, textile analysis, ethnography, and ethnohistory. Focuses on the period of Moche occupation. Bilingual in English and Spanish.