Home

/

Remembering Don Corbett
Remembering Don Corbett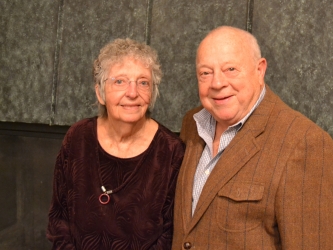 Don Corbett, a long-time dedicated benefactor of the Cotsen Institute, passed away December 10, 2021 at the age of 89. "We will miss him in our midst, where his presence was always upbeat and full of passion for the archaeology he loved and supported," expressed Willeke Wendrich, director of the Cotsen Institute. "His sudden death happened during a lunch meeting to discuss his great interest in and love for the institute," she added. This thought was reflected by his daughter, Pam Calahorro, who said she was glad that "he was in a happy place with good friends."
At that luncheon, he had the opportunity to meet the first recipient of an endowment he and his late wife, Marilyn Beaudry-Corbett, established to support women over 30 years of age in the graduate program in archaeology. According to Calahorro, Beaudry-Corbett wanted to make sure that women in their 30's would have the same access and opportunity that she had when she began her doctoral studies at that age. This generous contribution was only the most recent of several transformative gifts made over the years by the couple, including creating a chair in Mesoamerican Studies that will provide funds for teaching and research in the field in perpetuity.
Corbett's involvement with the Cotsen Institute developed in conjunction with that of his wife, who had been involved since 1977. A retired dentist, they met while he was attending one of her classes in ceramics analysis at UCLA. According to Calahorro, the family could not believe he really had asked out the teacher of his class. "Did you at least get an A?" they chided. "Of course," he replied. Three months after they started dating, he proposed at a shabby restaurant near the site of an excavation that Beaudry-Corbett was leading on the south coast of Guatemala. They spent the second half of their honeymoon in Mexico on a Smithsonian study tour led by Beaudry-Corbett, the first of many shared travel and culinary experiences. 
"He was very proud of her accomplishments," Calahorro explained about her father's relationship with Beaudry-Corbett. "If Marilyn needed support with anything, he was there to back her up and help drive it and guide it. She was a pretty independent gal who had a whole career in life before they met, but he loved being part of things, solving problems, and helping to contribute any way he could," she continued. "At one point, when I think they were in Central America, he would take his dental tools down and set up a table and extract teeth for the locals," she added. Callahorro also mentioned that when they were younger, her father would make jewelry from old gold fillings and crowns.
"Both Don and Marilyn were such avid supporters of the CIoA Press," says Randi Danforth, director of publications. "Not only was Marilyn a former director of publications at the Cotsen Institute Press herself, but she and Don would frequently come into the publications office to see what was new, chat about our projects, and buy books. And they both established a Mesoamerican imprint in Marilyn's name. My favorite memory of Don is when he told me that he had made a tiny charm out of dental gold for Marilyn. It was a replica of a significant artifact she had found, with an abstract face. She used a drawing by Helle Girey of this artifact on one of her books published by the Cotsen Institute Press."
"Archaeology brought us together," he would say about his relationship with Beaudry-Corbett, "but we also have the same interests in most everything else: music, travel, wine, and food. We never have a problem deciding what to do." He personally served two terms as president of the Friends of the Cotsen Institute (at the time called the Friends of Archaeology) and was continuously involved in the Ceramics Research Group at the Cotsen Institute. In remembering Beaudry-Corbett, Merrick Posnansky, professor emeritus, noted that, "together they formed the core of the Friends of Archaeology. Marilyn and Don were the backbone of our volunteers."
An Air Force veteran, Corbett was born and raised in Pennsylvania and attended dental school at the University of Pittsburgh. He moved to California in 1962. "Dad was an avid tennis player and was involved in a major food society where they had dinners from different parts of the world and had food that was appropriate to that timeframe," she explained. "He even made his own wine," which, according to Callahorro, was quite drinkable. He and Beaudry-Corbett used to host dinners and because "he was a social butterfly," his daughter says, it was a perfect fit for him. "The stars were really in alignment when those two met," she added. "He also had an insatiable appetite for learning and doing things."
"We were very lucky that in the past year and a half, no one in the family got sick, so we could all get together. Even when he could not use his hands very well, he would supervise the cooking," she said.
Corbett leaves three daughters: Callahorro and her twin sister Kim Boyden, who both live in Northern California, and Alexa Bima, who lives in Tucson; a sister Janet Corbett; as well as six grandchildren. He will be sorely missed.
Published on
January 7, 2022
.