Home

/

The Sanctuary of Asclepius at Epidauros: New Finds Rewrite the Function and History of the Most Important Sanatorium in Antiquity
Event:

The Sanctuary of Asclepius at Epidauros: New Finds Rewrite the Function and History of the Most Important Sanatorium in Antiquity
Event Details
UCLA SNF Center for the Study of Hellenic Culture | Embassy of Greece in USA | UCLA Cotsen Institute of Archaeology | Archaeological Institute of America–LA County Society | present
Vassilis Lambrinoudakis
Professor Emeritus of Classical Archaeology
University of Athens
Register here
After registering, you will receive a confirmation email containing information about joining the meeting.


The unexpected finds during recent excavations in the sanctuary of Asclepius at Epidauros shed new light on the origins, cult, and function of Asclepius, the main Divine Healer of the Graeco-Roman world. An amazing ground-floor building that features α peristyle and basement hewn into the rock was excavated at the Tholos, the famous classical circular building with underground, meander-like passages. It defines the highly debated and mysterious function of the Tholos as the cult place of chthonic Asclepius, and explains his presence in Epidauros in the 7th century BC. A small portico, found under the later Abaton, preceded the latter as a primitive dormitory hall. It provides evidence for healing through incubation already in early archaic times. An ash altar and accommodations for ritual meals around it explains the parallel magic cure through the consumption of sacred food from the very beginning of the cult. The new finds enrich our knowledge of the sanctuary's history and general healthcare in antiquity.
Her Excellency Alexandra Papadopoulou, Ambassador of Greece to the United States, will provide introductory remarks.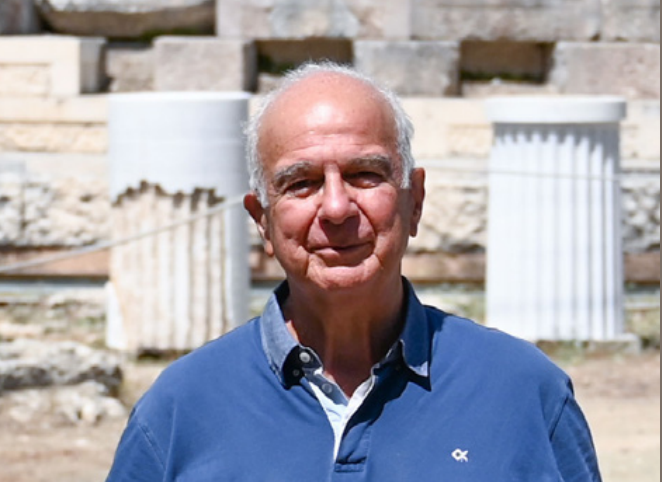 Vassilis Lambrinoudakis is professor emeritus of the University of Athens; corresponding member of the Académie des Inscriptions et Belles-Lettres, Paris; and the Akademie der Wissenschaften, Vienna. He studied History and Archaeology at the Universities of Athens, Munich and Bonn. He is member of the German Archeological Institute and the Austrian Archaeological Institute. He excavates mainly in Epidauros/Argolid and the island of Naxos in the Aegean See. He also conducted excavations on the island of Chios, in Marathon/Attica and in Palaiomanina/Acarnania. He directs projects of enhancement of archaeological sites in Naxos and Epidauros. In 2003, he earned the first prize of Europa Nostra for the excavation and the enhancement of the sites Yria and Sangri/Naxos. He has published 14 books and monographs, as well as 186 papers on ancient Greek architecture and art, ancient topography, ancient Greek religion, epigraphy, theory of Archaeology, and management of monuments. He was co-editor of the Lexicon Iconographicum Mythologiae Classicae (LIMC I-VIII) and of the Thesaurus Cultus et Rituum Antiquorum (ThesCRA I-VIII). In 2003, he was honored by the President of the Hellenic Republic "for promoting the Archaeology and the History of Greece throughout the world."