Home

/

A New Reality: The Cotsen Institute Goes Fully Online
A New Reality: The Cotsen Institute Goes Fully Online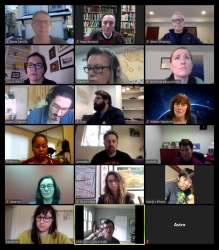 The next few months the physical Cotsen Institute will be closed, but many of our activities will continue in a virtual, online environment. Fortunately, modern technology makes this eminently feasible, unlike in 1665-1666 when the University of Cambridge had to close because of an outbreak of bubonic plague. It sent home all its students, staff, and faculty, including a young Isaac Newton who spent his time at his mother's house proving that white light was composed of many different colors.
Faculty and students of the Cotsen Institute already acquired many of the necessary skills to facilitate this transition. Most have depended on online resources—such as journal articles and digital data sets—for years, many classes already comprised smaller or larger online components, and the monthly Pre-Pizza Parlors—informal meetings during which daily affairs and long-term vision are discussed—were usually joined remotely by at least one or two attendees.
This means that classes in the archaeology and conservation programs will continue more or less as planned, albeit with less hands-on instruction. Some Pizza Talks will be presented online—all will have to bring their own pizza—or made available in a digital format. Research and especially fieldwork will obviously suffer from delays, which may impact progress towards the graduation of some of our students, a situation of which faculty is well-aware and that will be mitigated. For faculty research the effects of field work delay is less problematic: we are studying materials and events that are centuries to millennia old, so a few months' delay should not have too much impact. There will obviously be challenges, frustrations, and failures, but good things will inevitably also emerge and, like Newton's discoveries, shine a new light on our understanding of humanity. At least, we can now more or less experience what life may have been like during the Plague of Athens (431 BCE) or the Spanish flu of 1918-1919. An ethno-archaeological experiment beyond imagination.
Published on
March 25, 2020
.