Home

/

The Cotsen Institute Welcomes Justin Dunnavant
The Cotsen Institute Welcomes Justin Dunnavant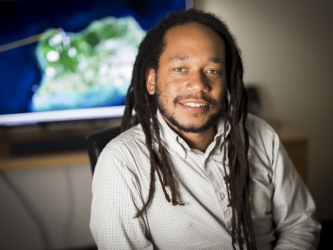 Remember, remind, and restore. To Justin Dunnavant, these are words to teach by, explore by, learn by, and dive by. For the incoming assistant professor of anthropology, this mantra has propelled him to explore sunken slave ships in the depths of the ocean, excavate former slave colonies in St. Croix in the U.S. Virgin Islands, and otherwise investigate the history and impact of the last 500 years of the African diaspora.
On May 25, he was selected by the National Geographic Society as one of 15 inspiring global change-makers comprising their 2021 Emerging Explorer cohort. He also has been named one of "Fifty People Changing the World" by the Explorers Club, part of a group that was chosen to "not only reflect the diversity of exploration, but to give a voice to trailblazing explorers, scientists, and activists doing incredible work…" He is the co-author of a compelling article advocating creation of an African American Graves Protection and Repatriation Act that was published in the latest issue of Nature magazine. In addition, his research at the Estate Little Princess in St. Croix and forthcoming work in Africatown, Alabama, was featured as a cover story in a recent issue of American Archaeology Magazine. This work "investigates the relationship between ecology and enslavement in the former Danish West Indies," he explained. Dunnavant hopes to get his UCLA students involved in the Africatown project and perhaps in St. Croix as well.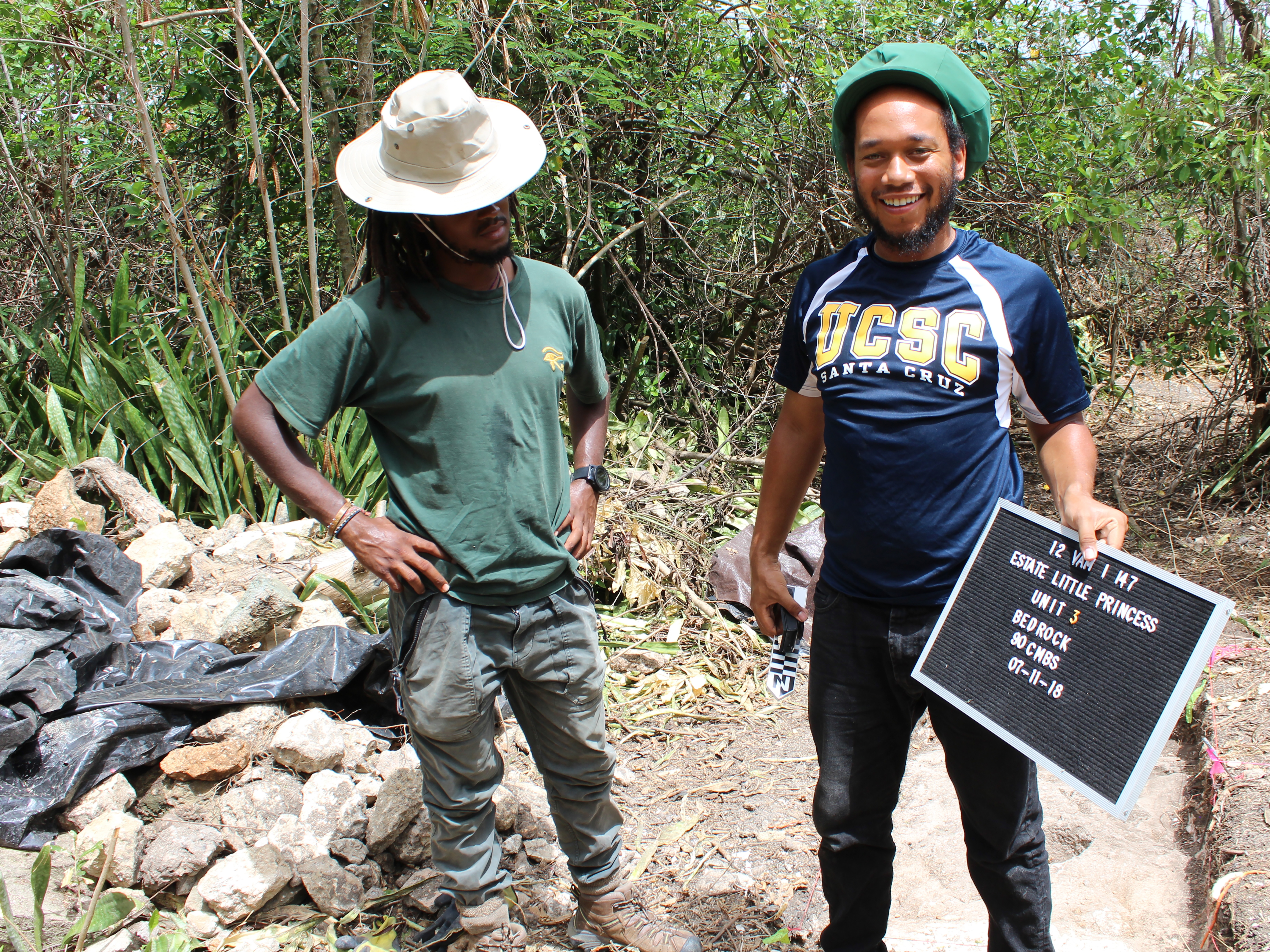 "The main focus of the research I have been doing on St. Croix is looking at the environmental impacts of the slave trade. For example, we do not normally account for the fact that they had to clear these islands to make them ready for plantation agriculture. That affects runoff, which leads to shoreline erosion, which literally shrinks the island. It also leads to reduced rainfall over time, because many of these trees are responsible for precipitation," he explained. "On top of that, there are a lot of historic buildings on the island made from coral that was mined from the ocean. So the work I am trying to do now is to redress that issue by actively engaging in coral conservation work to repopulate these waters with coral," he added.
"As researchers, we are saying that it is no longer enough for us to just study the historical legacies of these activities, but to actually do something about them," he explained. "Once we uncover what it is that has been damaged, distorted, or lost, we can begin to think about restoring some of those things. As researchers and academics, we often get caught up in identifying problems, but are rarely in a position to offer solutions to the problems. I think that this is the most exciting part," according to Dunnavant.
Africatown was founded by people who came on the slave ship Clotilda, which was recently located off the coast in Alabama. Considered to be the last slave ship to enter the United States, identifying the Clotilda "created a whole new resurgence of memory, of history, of excitement and exploration, and then also an intense revisiting of the history of Africatown," Dunnavant explained. A few years after the ship arrived, slavery was abolished, and those people found themselves "free," he said. They came back to where the ship dropped them off and established a community. "I honestly think Africatown will be one of the most significant archaeology sites in the twenty-first century," he added.
For the past three years, Dunnavant has also been an archaeological consultant for the National Museum of African American History and Culture, one of the Smithsonian Institutions, working on their Slave Wrecks Project to locate, document, and interpret slave shipwrecks all over the world. An AAUS Scientific Scuba Diver, he is a volunteer instructor in Diving With a Purpose's Maritime Archaeology Training Program.
After graduation from Howard University, which he entered at age 16, he was a Fulbright Fellow in Jamaica before going to the University of Florida, where he received his PhD in anthropology in 2017. He then held a postdoctoral position at UC Santa Cruz and recently completed a postdoctoral project at Vanderbilt, where he was affiliated with the spatial analysis research laboratory, run by an archaeologist who focuses on geospatial technology in archaeology. At Santa Cruz, he worked closely with Cameron Monroe, developing the Caribbean project, as well as the Historically Black Colleges and Universities training program of the University of California, designed to expose students from historically black colleges to graduate programs in the UC system. One of those students from Howard University, Jewell Humphrey, is currently in the PhD program in anthropology at UCLA, having worked with Dunnavant in the Caribbean two years in a row.
When he started college, he was an international business major who "just wanted to travel." He wanted to study abroad, and the only trip that did not have a prerequisite was an archaeology dig in Belize. "I lived in the rainforest for six weeks, and we were excavating a Mayan plaza. I thought it was amazing," he recalled. Through that project and others, he became hooked on archaeology. "Archaeology provides us with another archive that we can use to explore Black history," he explained.
A founding member of the Society of Black Archaeologists, Dunnavant looks forward to holding both undergraduate and graduate classes at UCLA beginning in January 2022. He will be teaching an African diaspora archaeology class, as well as a community-based archaeology class. "The courses will be thematic, based on the things that we have learned in archaeology about the African diaspora, touching mainly on the United States, the Caribbean and parts of South America," he said.
Dunnavant had become familiar with different UC anthropology departments while doing his postdoc at UC Santa Cruz. "I actually gave three different talks at UCLA over the course of a year," he added, with the last one being a presentation to anthropology. "UCLA is one of the few UC campuses with a major archaeological research center. A lot of the archaeologists here are doing really interesting work on contemporary issues."
He will officially join the UCLA faculty in July 2021, but will be spending the summer on multiple projects in St. Croix and Alabama. Upon relocating to Los Angeles, one of his first efforts will be finding a park where he can "play a lot of chess." And, he added, the southern California coast has great scuba diving potential. He is officially on the diving control board of UCLA, which approves any scuba diving activities under the auspices of UCLA. "There are a lot of faculty in marine biology, ecology, and so forth, who do scuba diving regularly in their studies," he explained. "We are exploring the potential to start a new project helping to map some of the wrecks off the west coast. We hope to be able to use that to get UCLA students more involved locally in terms of understanding maritime archaeology. It will involve multiple departments and probably multiple universities, as well.
"As archaeologists, we are trying to remember the things that we, as human beings, have done in the past. We are trying to remind each other about what it is that we are capable of; how we were able to move in certain spaces and live in conjunction with our environment. Then we are trying to restore the practices that lead us to live a better way on this earth." Remember, remind, and restore.
For more information, or to find out how to support our research and education in archaeology and conservation, please contact Michelle Jacobson at mjacobson@ioa.ucla.edu.
Published on
May 26, 2021
.