Home

/

Introducing Piphal Heng: Cotsen and PEMSEA Postdoctoral Scholar
Introducing Piphal Heng: Cotsen and PEMSEA Postdoctoral Scholar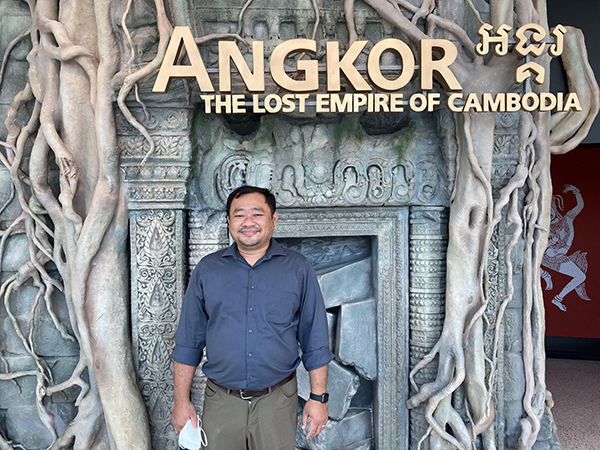 Many members of the Cotsen Institute, as well as countless others, will need no introduction to Piphal Heng, the incoming 2022–24 postdoctoral scholar at the Cotsen Institute and the Program for Early Modern Southeast Asia (PEMSEA). That is because he is a featured commentator in "Angkor 3D: The Lost Empire of Cambodia," the new IMAX movie playing at the California Science Center. Heng has also been awarded a prestigious fellowship from the American Council of Learned Societies (ACLS), which will be concurrent with his postdoctoral research at the Cotsen Institute and PEMSEA.
PEMSEA is directed by Stephen Acabado, associate professor of anthropology and core faculty member of the Cotsen Institute. According to Acabado, who made the announcement of Heng's appointment: "Dr. Heng will strengthen our understanding of the Early Modern Period in Southeast Asia. His research interests resonate with issues about peoples in the margin. The Early Modern Period is the least understood time period, even though it saw the most radical environmental, economic and socio-political changes in the region," Acabado noted. "Most importantly, the archaeology of Southeast Asia is poorly represented in North America, and Dr. Heng's work will definitely bring Southeast Asian archaeology into the center of the discussions about the Early Modern Period."
A native of Cambodia who has been working in the field for nearly twenty years, Heng received his PhD and M.A. degrees in anthropology from the University of Hawai'i at Manōa. Most recently he was a postdoctoral researcher and graduate faculty scholar at the Center for Southeast Asian Studies (CSEAS) and the department of anthropology at Northern Illinois University. The former Fulbright scholar is also the recipient of the ACLS-Robert H.N. Ho's Family Foundation in Buddhist Studies Postdoctoral Fellowship and the Harvard-Yenching Doctoral Fellowship.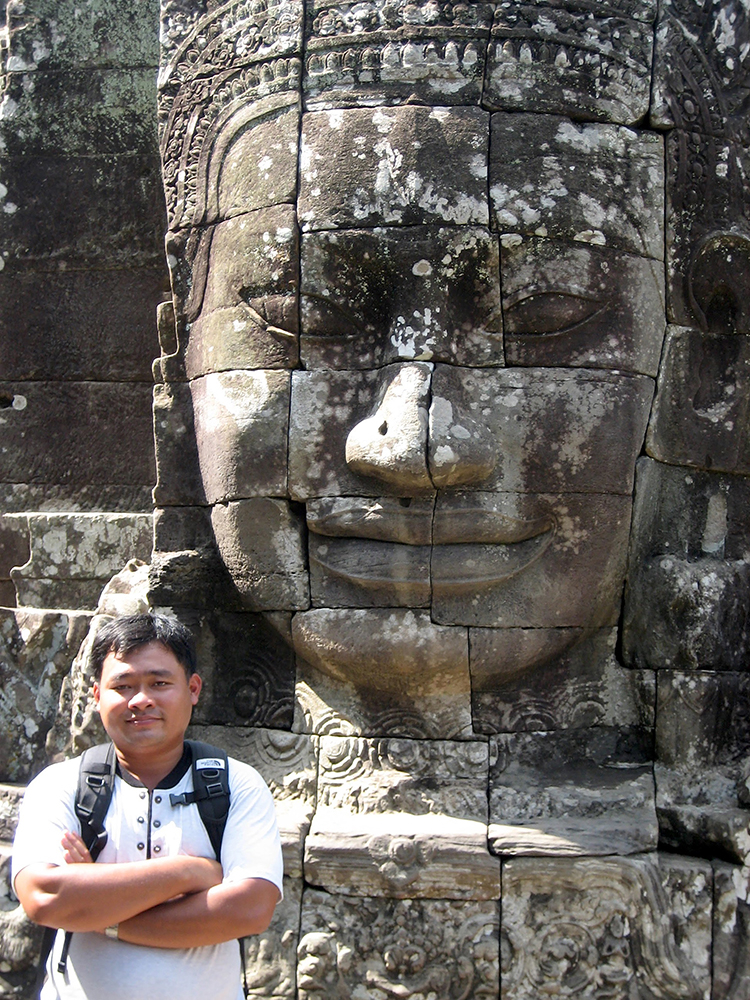 Heng described his archaeologically-based research program as primarily examining political economy, religious-ideological changes, settlement patterns, urbanism, and state formation in early modern Southeast Asia. His most recent research explored ideological and organizational shifts associated with Buddhism from the Angkorian to the post-Angkorian period. "This research contributes to our understanding of religion changes, from Hinduism and Mahayana Buddhism to Theravada Buddhism and its synchronic relationship with the communities and the state organizations," he explained.
In a 2021 colloquium hosted by the CSEAS at UCLA, Heng noted that "archaeology provides a complimentary dataset to the field dominated by art history and history, and Angkor is the best example of that." He presented an alternative to conventional studies on Cambodia through examination of the material aspects of archaeology. He also argued that compassion was instrumental in building, maintaining, and expanding Angkor's power from the ninth through the fifteenth centuries. As an example, he used the Jayavarman VII inscriptions, which provide a detailed description of the king's perspective on ruling power: "The suffering of men's bodies became for him the suffering of the soul, which is much more; for the grief of kings is the suffering of their subjects, and not their own."
Heng described his own research as "contributing to the holistic understanding of changes occurring in Southeast Asia" during that period. He believes in breaking archaeological boundaries to be more interdisciplinary and reframing research questions to move beyond functional or symbolic analyses. He has suggested shifting the research process to explore topics like the daily lives of different social classes or rulership through analyzing temples, statues, and sites. "The way to move forward is to look at modern comparative studies and cross-cultural studies, especially for Southeast Asia," he said.
In describing Heng's potential contributions to the work being done at UCLA, Acabado noted that Heng's "life history highlights the plight of post-Khmer Rouge and Vietnam-occupied Cambodia, particularly in higher education. His success in graduate school and the potential to contribute to anthropological archaeology will serve as a model for Southeast Asian immigrants in the United States in general, and in California, in particular. It is widely known among academics," Acabado continued, "that Southeast Asian immigrants, especially Khmer, Hmong, and Lao, are historically underserved groups. Although they get lumped into the wider Asian minority, they have less access to higher education opportunities. As the Cotsen and PEMSEA postdoc, Heng will be able to work with the Cambodian community in Long Beach, the largest Cambodian community outside Cambodia."
Being able to work regularly with the Cambodian community in Long Beach was one of the attractions of the postdoctoral position at UCLA, according to Heng. "Outreach programs like heritage education and archaeology allow the Southeast Asian communities in the United States and Southeast Asia to connect with their heritage, identity, and transboundary network," Heng explained. He and Acabado have already done many outreach activities through their research projects and classrooms, and they hope to strengthen these efforts through collaborations with American universities and allied institutions in Southeast Asia and through the support of Southeast Asian heritage students' participation in their field projects.
Heng noted that during the first week of May, he and anthropologist Miriam Stark, director of CSEAS at the University of Hawai'i-Manōa, gave a series of talks to students at California State University campuses at Dominguez Hills and Long Beach, as well as at the Long Beach Public Library. Heng also met with Cambodian-heritage students at Millikan High School to offer them an opportunity to ask about archaeology, attendance in graduate school, and any other relevant subject. "We met with professionals working on Cambodia and Southeast Asia and with members of Southeast Asian communities in the United States to forge future collaborations," Heng added.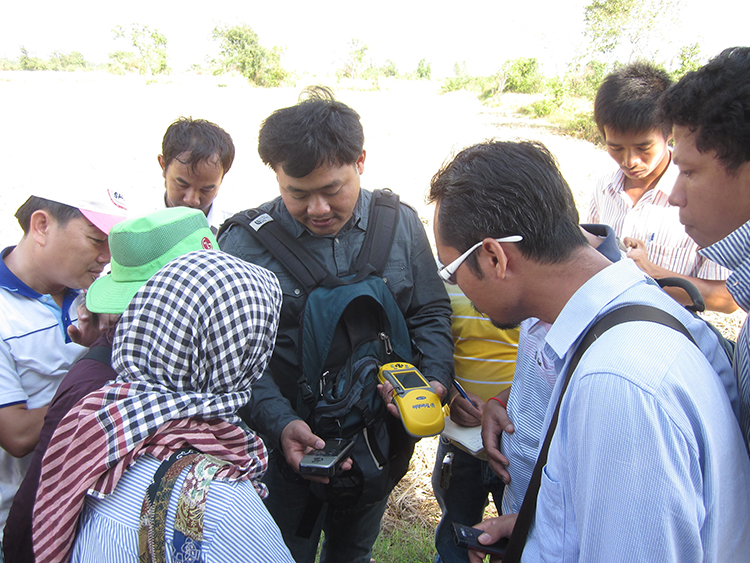 Their aims are to establish communications between universities, centers, and communities and, in the future, to assist these professionals and communities in developing K–12 curricula on "carrying culture" related to their communities. "These talks and meet and greets will establish a connection so that UCLA can become a major base for future outreach activities," Heng noted. Acabado will continue to be involved with some of these meetings.
Heng also explained that because both he and Acabado are studying the Early Modern Period, "it is what fits my current research theme. My research speaks to that of PEMSEA generally, and I am excited to be a part of this. Stephen and I share a lot of common ground." He pointed out that his research in urbanism parallels that of Monica Smith with her work on cities. Smith is professor of anthropology, core faculty of the Cotsen Institute, and the author of Cities: The First 6,000 Years. "I use a lot of her work in my recent articles. This is someone else I can talk to."
The IMAX film, which was based on research done ten years ago, features the light detection and ranging (LiDAR) mapping performed at Angkor. Heng explained that during his original research, they did not have access to this kind of technology. "Simple mapping of Angkor is challenging because of the forest. With LiDAR, we can see the relationships between different settlements and different temples. It allows us to see a bigger picture of what Ankorian urbanism was like." He worked with archaeologist Alison Carter (University of Oregon) and others on a co-authored article on "The Evolution of Agro-Urbanism: A Case Study from Angkor, Cambodia," which appeared in the September 2021 issue of the Journal of Anthropological Archaeology. He is also the author of "Landscape, Upland-Lowland, Community, and Economy of the Mekong River (6th–8th Century CE): Case Studies from the Pre-Angkorian Centers of Thala Borivat and Sambor," which was published in February 2022 in World Archaeology.
Heng will be moving from Hawai'i to California, and it is apparent that he will receive a warm welcome both at UCLA and at the nearby Cambodian community to help him feel at home here.
Published on
May 11, 2022
.