Advances in Titicaca Basin Archaeology-1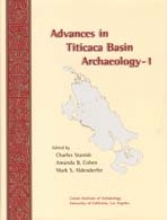 Backlist
Series:
Monographs 54
ISBN
: 978-1-931745-19-2
Publication Date
:
Apr 2005
Price
: Hb $14.98, Pb $9.98, Eb $30.00
Order this book here!
---
Charles Stanish, Amanda B. Cohen, and Mark S. Aldenderfer
Advances in Titicaca Basin Archaeology-I is the first in a series of edited volumes that reports on recent research in the south central Andes. 
Volume I contains 18 chapters that cover the entire range of human settlement in the region, from the Early Archaic to the early Colonial Period. This book contains both short research reports as well as longer synthetic essays on work conducted over the last decade. It will be a critical resource for scholars working in the central Andes and adjacent areas.