Early Athens: Settlements and Cemeteries in the Submycenaean, Geometric, and Archaic Periods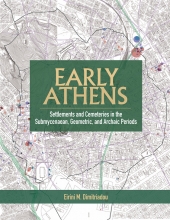 Series:
Monumenta Archaeologica 42
ISBN
: 978-1-938770-15-9
Publication Date
:
Apr 2019
Price
: Hb $139.00, Ebook $55.00
Order this book here!

---
Eirini M. Dimitriadou
"... presents all the relevant contexts in detail, including the original plans, within which Dimitriadou's three phases of interest (Submycenaean, [Proto-]Geometric and Archaic) as well as the ensuing Classical phases have been highlighted in different colors. This will make her book a major reference volume for a long time... [The author has done] the scholarly community a great service in drawing the attention to the wealth of data available."
  — Maximilian F. Rönnberg, Bryn Mawr Classical Review, 2019
This volume is one of the most important works on ancient Athens in the last fifty years. The focus is on the early city, from the end of the Bronze Age—ca. 1200 BCE—to the Archaic period, when Athens became the largest city of the Classical period. From a systematic study of all the excavation reports and surveys in central Athens, the author has synthesized a detailed diachronic overview of the city from the Submycenaean period through the Archaic. It is a treasure-trove of information for archaeologists who work in this period. Of great value as well are the detailed maps included, which present features of ancient settlements and cemeteries, the repositories of the human physical record. Over eighty additional large-scale, interactive maps are available online to complement the book.