Exploring Methods of Faunal Analysis: Insights from California Archaeology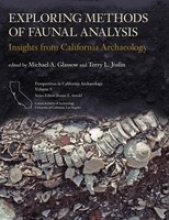 Backlist
Series:
Perspectives in California Archaeology 9
ISBN
: 978-1-931745-87-1
Publication Date
:
Jan 2012
Price
: Pb $34.95, eBook $28.00
Order this book here!
---
Michael A. Glassow and Terry L. Joslin
How does the practice of archaeology benefit from faunal analysis? Michael Glassow and Terry Joslin's Exploring Methods of Faunal Analysis: Insights from California Archaeology addresses this question. Contributors to this volume demonstrate how faunal remains can be used to elucidate subsistence, settlement, technological systems, economic exchange, social organization, adaptation to variability in resource distribution and abundance, and the impacts of historic land use.
The sheer prevalence of faunal remains in California archaeological sites means that most archaeologists working in the state inevitably must give these resources their close attention-and yet methodological challenges remain. The chapters in this thoughtfully edited volume tackle these challenges, providing strategies for identifying and mitigating sample bias and recommending quantitative techniques borrowed from a variety of disciplines. The volume also presents examples that illustrate the use of faunal data to test hypotheses derived from microeconomic theory, the applicability of bone and shell chemistry to faunal analysis, and the relevance of faunal data to addressing issues in biology.