Formative Lifeways in Central Tlaxcala Vol. 1: Excavations, Ceramics, and Chronology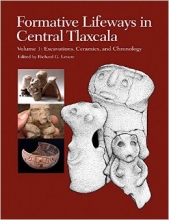 Backlist
Series:
Monumenta Archaeologica 33
ISBN
: 978-1-931745-69-7
Publication Date
:
Jul 2014
Price
: Hb $75.00, Ebook $60.00
Order this book here!
---
Richard Lesure
The transition to the Formative in the relatively high-altitude study region of Tlaxcala, Mexico is later than it was in choice regions for early agriculture elsewhere in Mesoamerica. From 900 BCE, however, population growth and sociopolitical development were rapid. A central claim in the research presented here is that a macroregional perspective is essential for understanding the local Formative sequence.
In this volume, the data from excavations at three village sites (Amomoloc, Tetel, and Las Mesitas) and one modest regional center (La Laguna) are examined. The ceramic typology is described in detail. An innovative approach to the classification of figurines is presented, and a Formative chronology for the region is proposed based on seriation of refuse contexts and radiocarbon dates. The work concludes with a macroregional framework to be used in the analysis of subsistence, social relations, and political economy in Volumes 2 and 3, now in preparation.