Moche Fineline Painting From San José De Moro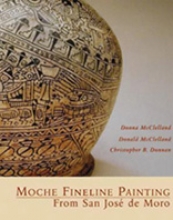 Backlist
Series:
Monographs 58
ISBN
: 978-1-931745-38-3
Publication Date
:
Jun 2007
Price
: Hb $19.95, Pb $14.95
Order this book here!
---
Donna McClelland, Donald McClelland, and Christopher B. Donnan
Moche civilization flourished on the north coast of Peru from AD 200 to 800. Although the Moche had no writing system, they left a vivid artistic record of their beliefs and activities on intricately painted ceramic vessels, several thousand of which are scattered in museums and private collections throughout the world today.
Unfortunately, nearly all were looted by grave robbers so their origin and context are unknown. In recent years, however, through a combination of archaeological excavation and stylistic analysis, it has been possible to identify more than 250 painted vessels from the site of San Josèóe Moro. To date, this is the largest sample of Moche art from a single place and time. Thus it provides a unique opportunity to identify a distinct sub-style of Moche ceramics, and to assess its range of artistic and technological variation. Moreover, within the sample it is possible to identify multiple paintings by 18 different artists, thus elucidating the range of subject matter that an artist would paint, as well as the variation in the way he would portray the same scene. By discussing and illustrating more than 200 painted vessels from San Josè de Moro, this volume provides insights about a community of ancient Peruvian potters who shared a distinctive painting style and left a fascinating record of their achievement.