Rice Bowls in the Delta:Artifacts Recovered from the 1915 Asian Community of Walnut Grove, California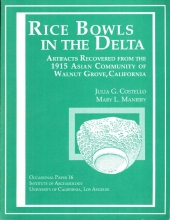 Backlist
Series:
Occasional Papers 16
ISBN
: 0-917956-60-5
Publication Date
:
Jul 1988
Price
: OUT OF PRINT
---
Julia G. Costello and Mary L. Maniery
The artifacts recovered from the Walnut Grove are a significant addition to the research of the late nineteenth- and early twentieth-century Asian material culture. Of particular significance is the large collection of recovered Japanese ceramics. Deposited en masse following a devastating fire in 1915, they represent the table wares used by Walnut Grove's Japanese residents from ca. 1896 to 1915. Primarily products of the Meiji Period's technological revolution, these inexpensive porcelains have been largely overlooked in studies of Japanese pottery.