Images in Action: The Southern Andean Iconographic Series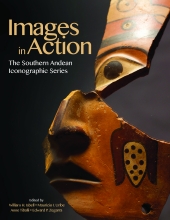 Series:
Cotsen Advanced Seminar 6
ISBN
: 978-1-938770-14-2
Publication Date
:
Sep 2018
Price
: Hb $139.00
Order this book here!

---
William H. Isbell, Mauricio I. Uribe, Anne Tiballi, and Edward P. Zegarra
Emanating from a colloquium in pre-Columbian art and archaeology held at the University of Chile in Santiago, Images in Action presents interpretations of a large corpus of art and iconography from the Southern and South-Central Andes, bringing together some of the most esteemed scholars in the field. More than thirty authors, all with extensive experience in the Southern Andes, examine artifacts, artworks, textiles, archaeology and architecture to develop creative new insights on the cultural interactions between people in prehistoric western South America. The volume's nearly 700 images are archived in an online database with metadata, fully referenced in the text, and searchable.