Home

/

Crowdfunding Campaign Raises $10,375 for Laboratory Equipment
Crowdfunding Campaign Raises $10,375 for Laboratory Equipment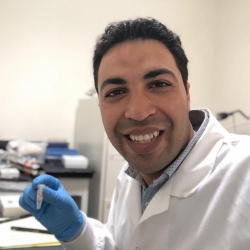 The Cotsen Institute of Archaeology at UCLA launched a UCLA Spark crowdfunding campaign to equip the laboratories at the institute with additional resources needed as a result of the Covid-19 pandemic. The campaign, which began on Giving Tuesday, December 1, and ended midnight, December 31, raised $8,375. An additional $2,000 was donated after the campaign ended, for a total of $10,375 from 67 donors.
Archaeological research typically involves gathering data from a range of sources, whether through conducting field research or digging into archives. However, it is by organizing and analyzing those data that significant discoveries are made. While media may focus on the drama and excitement of excavations, the work that takes place in the laboratories at the Cotsen Institute is fundamental to making sense of what was uncovered previously. This crowdfunding campaign sought to highlight the importance of these laboratories and the equipment and training they offer our faculty and students.  
Directors of three of the laboratories in the Cotsen Institute—the Experimental and Archeological Sciences Laboratory, the Digital Archaeology Laboratory, and the Armenian Lab—took what they have heard students requesting for their research and created the Support Archaeological Science campaign on the UCLA Spark crowdfunding platform. Vanessa Muros, Deidre Brin, and Kristine Martirosyan-Olshansky, respectively, worked with students to determine which pieces of equipment could be purchased to assist with their research both with an eye towards what could be used now while they were restricted from traveling to their field sites as well as what would facilitate future fieldwork.   
With the funds that were raised, orders have been placed to build out a collection of material reference standards that provide Cotsen affiliates with the tools needed to conduct accurate, reproducible analyses on artifacts composed of a wide range of metals, ceramics, and obsidian. Muros is working closely with Alfonso Lopez, the Office Manager at Cotsen, to find the best deal on the next purchase—a stereomicroscope that will allow users to examine samples and small artifacts without conducting invasive procedures.
While the Spark crowdfunding campaign has ended, the laboratory directors did not get everything on their wishlist. Gifts to the Cotsen Equipment Fund can be made online at Friends of the Cotsen: https://ioa.ucla.edu/giving.
For more information, or to make a gift by check, contact Michelle Jacobson at mjacobson@ioa.ucla.edu.
Published on
March 18, 2021
.