Home

/

Ofer Bar-Yosef (1937-2020): Celebration of Life
Ofer Bar-Yosef (1937-2020): Celebration of Life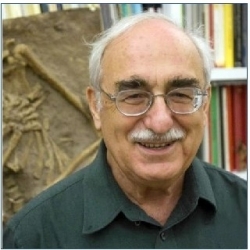 It is with great sadness that we received the news that Ofer Bar Yosef passed away. Bar Yosef was Professor Emeritus at Harvard and a celebrated archaeologist and mentor. He was the first recipient of the Lloyd Cotsen Prize for Lifetime Achievement in World Archaeology, which he received in 2013 together with his mentee Carolina Mallol, of the University of La Laguna in Spain.
From 1967, he was Professor of Prehistoric Archaeology at Hebrew University in Jerusalem, the institution where he originally studied archaeology at undergraduate and post-graduate levels in the 1960s. In 1988, he moved to the United States where he became Professor of Prehistoric Archaeology at Harvard University, as well as Curator of Palaeolithic Archaeology at the Peabody Museum of Archaeology and Ethnology. He was professor emeritus when he passed.
Bar Yosef studied at the Hebrew University in Jerusalem and became a professor at the same institution in 1967. From 1965 onwards, his archaeological research took him around the world for lectures, collaboration, and field work. He was a member of the National Academy of Sciences, the British Academy, and the Academy of Science of the Republic of Georgia, who all recognized his important influence in archaeological theory and practice with a focus on the major transitions in the development of Homo sapiens. He was widely renowned and the world's foremost expert on the transition from the Paleolithic into the early Neolithic Period. He studied Upper Paleolithic assemblages from the Sinai (Egypt), Israel, the Czech Republic, the Republic of Georgia, and most recently in the People's Republic of China. Through this work, he provided important contributions to the debates on human dispersals out of Africa, lithic analysis, human-Neanderthal interactions, the relationship between environmental and behavioral change, early pottery production, and the development of agriculture, among other topics.
His work provided evidence for early human dispersals from Africa to Eurasia from the site of 'Ubeidiya (1.5 Ma) in the Jordan Valley. More recently, as a co-director of a large Israeli-French-American research program, he spent two decades of field and laboratory research in Kebara, Qafzeh, and Hayonim caves in Israel (with Bernard Vandermeersch, Liliane Meignen, Paul Goldberg, Anna Belfer-Cohen, and others) demonstrating the early arrival of modern humans in the Levant and the late appearance of Neanderthals in the Near East. He co-directed the excavations at Netiv Hagdud, an early Neolithic settlement in the Jordan Valley with Abraham Gopher. In 2004-5 he co-directed the excavations at Yuchanyan cave (Hunan Province) with Jiarong Yuan. He wrote and co-edited 22 volumes and authored, or co-authored over 400 articles and book chapters.
Most of all, he was a warm-hearted person who cared deeply about the discipline and especially about his students. With a great sense of humor and a mischievous smile, he would bring his theories about dispersal of knowledge to the fore, always based on a deep knowledge of the subject at hand, but never in a tone that would discourage alternate opinions. As a mentor, his role was to stimulate independent thought, rather than create copies of his own work and approach. He will be sorely missed and remembered, and we are privileged to have known him.
Published on
March 16, 2020
.