Home

/

Remembering Dr. Marilyn Beaudry-Corbett
Remembering Dr. Marilyn Beaudry-Corbett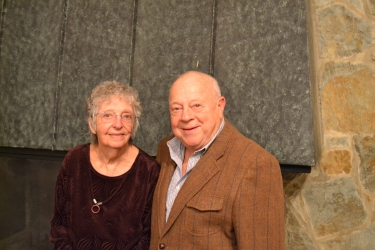 On July 14, 2020, The Cotsen Institute of Archaeology lost one of its most dedicated and beloved alumni, Dr. Marilyn Beaudry-Corbett. She was a member of the Cotsen Institute family since 1977 in different roles, as a graduate student, visiting assistant professor and former director of publications.
Beaudry-Corbett was a true Angelino, born and raised in Los Angeles. In 1953 she earned a bachelor's degree in marketing from the University of Southern California and then completed a one-year graduate management-training program at Radcliffe College before returning to USC to obtain a master's in industrial sociology in 1961. This was the mid-sixties, a time when women found their voice and pushed the glass ceiling up, a bit at a time. Beaudry-Corbett joined Audience Studies Inc., a marketing and advertising research firm, and was eventually promoted to chief operating officer. This job took her all over the world and ignited her passion for travel. As a single professional woman in the early 1970s, she was an inspiration for women's liberation: she conquered the corporate world.
And in the middle of this success story she asked herself, 'Do I want to keep doing this for the next 15 to 20 years?' Her answer was, unequivocally, "no." She sought and found her real passion: archaeology.
Beaudry-Corbett was one of the first students to earn a master's degree in UCLA's newly established Interdepartmental Program in Archaeology, in 1977, followed by a doctorate in 1983. She was awarded a postdoctoral fellowship at the Smithsonian Institution and spent a year as a Fulbright scholar in La Lima, Honduras. The same power that brought her to the top of her game in advertising, also allowed her to get her doctorate, and helped her embark with a vengeance on the tiring, dusty, yet stimulating tasks of archaeology. Her specialization was the production and distribution of archaeological ceramics and from that expertise she directed the Cotsen Institute's Ceramics Research Group. Perhaps her greatest achievements in her scholarly career is the co-authorship, with archaeologist John S. Henderson, of the first-ever compendium of Honduran pottery, "Pottery of Prehistoric Honduras," published by the institute's press in 1993.
Many students and faculty members participated in the pottery firing extravaganzas she organized on Dockweiler Beach, the only place where open fires were allowed. She did much of this together with Don Corbett, whom she met in 1987, while teaching a class in ceramics analysis at UCLA. Corbett, a dentist by profession who had become hooked on archaeology a few years earlier, took to pottery and to the visiting professor who had taught him the basics. Together they formed the core of the Friends of Archaeology. Prof. Merrick Posnansky wrote in reaction to her passing: "She was the embodiment of the strength of volunteerism. I remember the fantastic work she did as Director of Publications after Ernestine Elster stepped down, She was tireless and came in and did work to help others so many times often with little fanfare except one noticed her car in the parking lot. She and her husband Don were the backbone of our volunteers and of the Friends of Archaeology. We shall all miss her insights, quiet dignity and love of archaeology."
Beaudry-Corbett succeeded as Director of Publications in the footsteps of Dr. Elster, who wrote: "I remember Marilyn when she walked into our 'offices' in the basement of the then-named Physics Building to introduce herself as a volunteer with the Friends. She was at the top of her field, advertising, but had fallen in love with Mayan archaeology. And so Marilyn began: I think H. B. Nicholson was her chair but she participated in a Malibu field class under Clement Meighan, and then she and I worked together as members of the team lead by Billy Clewlow in Guatemala."
After which Elster added "and she was a fabulous cook!".
That last remark speaks to Beaudry-Corbett's greatest hobby, which she and her husband shared as well. This was not only studying the history of food, but most importantly the culinary enjoyment in the present. Traveling and tasting were two of the joys of their life.
In 2014, she donated a transformative gift of $5 million to the UCLA Cotsen Institute of Archaeology that established two named endowments. The Marilyn Beaudry-Corbett Endowed Graduate Fellowship in Archaeology was a $4 million bequest to establish an endowment to provide vital support in perpetuity for Cotsen graduate students, with preference given to women aged 30 and over. And $1 million gift that established the Marilyn Beaudry-Corbett Endowed Chair in Mesoamerican Archaeology — the first chair in this field at UCLA — ensures that the Cotsen Institute has a robust presence in Mesoamerican Archaeology. The Chair is held by Professor Richard Lesure. Of her philanthropy, Beaudry-Corbett said in 2014, "I am thrilled that my gift will support future archaeologists and the field of Mesoamerican archaeology at the Cotsen, which has given me so much pleasure and professional fulfillment."
Thanks to Beaudry-Corbett's vision and her dedication to archaeology her legacy at the Cotsen Institute will extend far into the future. This is a gift from a person who herself was a gifted professional and archaeologist, an accomplished scholar and someone intimately familiar with students' need. Whether she discussed pots, or their culinary contents, she was well-aware that students need food on the table.
Published on
July 27, 2020
.