Home

/

Two Cotsen Institute Alumnae Named to Tenure-Track Positions
Two Cotsen Institute Alumnae Named to Tenure-Track Positions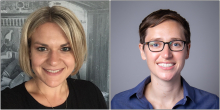 Carrie Arbuckle MacLeod (left) and Debby Sneed (right).
Carrie Arbuckle MacLeod and Debby Sneed, both of whom earned their PhD degrees from the Cotsen Institute in 2018, have recently accepted tenure-track positions. Arbuckle MacLeod is  now assistant professor of classical and Near Eastern archaeology at St. Thomas More College at the University of Saskatchewan, Canada, and Sneed is assistant professor of classics at California State University, Long Beach.
The alumnae agree that hard work and perseverance are major contributors to their success. Sneed explained that "there really is no key to success in academia. You can do everything you are told: publish in the right journals, teach in the right departments, communicate with the right people, and still not land a tenure-track position." What has been important to her is "to focus on doing what I find fulfilling about this work, without fixating on trying to work within a system in which there are no guaranteed outcomes. For example, I have tried to focus on writing the articles that I wanted to write," she continued, "not those I thought would get me the most mileage in the job market,  because I didn't want to regret neglecting what I'm passionate about."
Sneed will primarily be teaching undergraduate students ancient Greek, as well as courses in ancient Greek and Roman myth, culture, history, and archaeology. She also plans to develop a new course on disability in the ancient Mediterranean world. Sneed had been a lecturer in the same department since January 2020. "I got my current position because of terms outlined in the new collective bargaining agreement negotiated by the California Faculty Association, which represents faculty in the California State University system," she added and advises current students and recent graduates to unionize.
Since previously appearing on the website of the Cotsen Institute in 2021, when she won the Ben Cullen Prize for her article published in Antiquity, Sneed has completed a research fellowship at the American School of Classical Studies at Athens, where she was from January through August of 2022. She also has published an article on disability and infanticide in ancient Greece published in Hesperia and submitted other articles scheduled for future publication. She is in her second year as a lecturer for the National Lecture Program of the American Institute of Archaeology and is working on additional projects, including a book about disability and daily life in ancient Greece; an article about disability and religious practice in archaic Athens; and an article about assistive technology in the ancient world.
Arbuckle MacCleod is originally from Vancouver, Canada, and was interested in staying in Canada. Before obtaining her PhD from the Cotsen Institute, during which time she taught "Archaeology in the Digital Age," she had completed her BA in classical and Near Eastern archaeology at the University of British Columbia and her MA in Egyptology at Oxford University. After graduating from UCLA, she returned to the University of British Columbia, where she spent four years in a postdoctoral position teaching ancient Egyptian archaeology, religion, and language courses, and working as an editor for the Database of Religious History. Together with Danielle Candelora, also a UCLA alumna, she is also co-director of a short undergraduate teaching program in Museo Egizio in Turin, Italy.
As an archaeologist who specializes in the study of ancient Egypt, she is interested in understanding the lives and techniques of ancient Egyptian carpenters. She studies the long history of coffin construction in ancient Egypt to understand better how carpenters adapted their techniques to political, environmental, and religious shifts. She is also frequently involved in public history and digital humanities projects, particularly those related to archaeology and digital games.
In her approach to teaching, she says to "believe that creating a welcoming learning environment should be the first goal of every instructor. When students feel confident that their voices will be heard, discussions are more productive, and both students and instructors will gain greater enjoyment from the experience." She is teaching "Introduction to Classical and Near Eastern Archaeology" this term and will be teaching an "Introduction to Egyptian Archaeology" next term. She has also proposed a course on her subspecialty called "Introduction to the Archaeology of Wood and Woodworking."
Arbuckle MacLeod found the call for applications for her current position on Indeed.com, but had also subscribed to many listservs and had maintained contacts at UCLA and elsewhere, through which she would get updates on different openings for positions. She points out that there were "maybe five or six openings every year that I was suited for, and there may have been hundreds of people applying. Last year, I think I applied for five positions. You find out pretty quickly that you are one of many very qualified candidates. It really just depends on what the position calls for. For my current job, the call was open to scholars in Greek, Roman, the Near East, and Egyptian specialties. So I thought I had a foot in there," she added.
"In the United States, the job postings often say that priority is given to American citizens," she explained. "It was the same thing here: priority was given to Canadian citizens. I had a postdoc that they were willing to extend to a third year if I wanted, so I was only applying for jobs that were tenure-track." She also mentioned the things that need to be done to make sure your CV is competitive: publish, teach, present at conferences, etc. "But everybody is doing that. So I would say it is about 30% that and 70% luck, quite frankly. I know it gets very disheartening when you apply for these things and you don't even make it to the final round thinking that there is something wrong with you or your CV. Usually it is just that there is a really specific gap that they are trying to fill, and you don't happen to fill that gap. It is just a matter of persistence," she concluded.
Published on
September 12, 2022
.