Home

/

Latest in the Labs: The Experimental and Archaeological Sciences Laboratory
Latest in the Labs: The Experimental and Archaeological Sciences Laboratory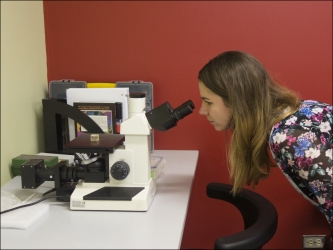 If you are interested in conducting research on ancient materials and technology, then welcome to the Experimental and Archaeological Sciences Laboratory (EASL), the newest addition to the research facilities within the Cotsen Institute. This collaborative space is dedicated to the study of past cultures and materials through replication experiments, scientific analysis, and STEAM (science, technology, engineering, arts, and mathematics) education.
The EASL aims to assist students, faculty, and those affiliated with the Cotsen Institute in preforming archaeological research projects, and to offer resources for laboratory-based courses. It is also available to outside researchers. Director Vanessa Muros explained that while the original focus of the laboratory was on ceramic technology and petrography, the intention was always to expand its capabilities. With her extensive background in conservation, Muros also hopes to integrate conservation with archaeological research and education. "There is still often a divide between the two disciplines, especially when it comes to the introduction of cultural heritage preservation and the education of conservation into archaeology programs. The Cotsen Institute is in a unique position in regards to the integration of the fields because it has graduate programs in both archaeology and conservation."
"It has been great to see how excited faculty and students are about the laboratory and its potential for new types of research and collaboration. It is wonderful to be working somewhere that is so dynamic and collaborative," Muros explained. She has already been approached by several prospective graduate students who have read about her work; one who was interested in her insights in ancient South American metals and another who was interested in applying methods of chemical soil analysis in her graduate research.
Some of the current work in the EASL demonstrates the diversity of its capabilities. According to Gazmend Elezi, PhD candidate at the Cotsen Institute who is currently conducting research on late Neolithic pottery from the Balkans, the laboratory "has provided the best possible scientific environment,"  including equipment, knowledge, and assistance, "in order to conduct successful experiments related to the production of the ceramic assemblage," which is the focus of his dissertation research. Muros explained that for one part of his research, he collected material from clay sources in Albania that could have been used for the production of the ancient pottery found at the sites in his study. "The modern clay was used to make small tiles which will be fired at different temperatures. After firing, he will analyze these using one of our portable X-ray fluorescence (pXRF) instruments," she continued, explaining that Elezi will also make thin sections to compare with those of his archaeological samples.
Identifying the raw pigments excavated from the Neolithic settlement of Masis Blur in modern Armenia is another ongoing project of the EASL. Once identified, using techniques such as polarized light microscopy and pXRF, the work will shift to determine how these pigments and the spaces in which they were found were used, according to Muros. These data will provide information on craft specialization and long-distance trade, she added. This research is in collaboration with Kristine Martirosyan-Olshansky, director of the Armenian Laboratory at the Cotsen Institute and the co-director of the Masis Blur Archaeological Project.
Muros is also working on a project to analyze the debris of glass production found in Amarna, Egypt. This was excavated in the late nineteenth century and is currently housed at the University of Pennsylvania Museum of Archaeology and Anthropology. "Different analytical techniques are being used to characterize the composition of the glass waste and to identify the raw materials used in the production of vitreous materials at the site," she explained. "The results will also help identify what stages of glass manufacture this archaeological evidence represents." This project is funded in part by the Antiquities Endowment Fund of the American Research Center in Egypt.
Another project that is partly taking place in the EASL is conducted by Fumie Iizuka, a scholar affiliated with both UC Merced and Tokyo Metropolitan University. She is using cross-polarized light microscopy to examine thin sections from Incipient Jomon period (ca. 10,000–8,000 BCE) vessels found on Tanegashima Island in southern Japan. Iizuka aims to compare this pottery with the sediments that she collected from local sources and from neighboring islands. Her research is trying to answer questions about pottery production, procurement of raw materials, and trade.
Prior to becoming director of EASL, Muros worked for fourteen years as the laboratory manager for the Conservation Training Laboratories in the Getty Villa. Her main responsibilities there were to manage the day-to-day running of the laboratories and to provide teaching and research support to faculty and students of the UCLA/Getty Conservation Program. During that time, she also worked with faculty and students of the Cotsen Institute, either on their field projects and research, or by providing training on analytical instruments. She feels that her new role at the Cotsen Institute puts her in a better position to work on integrating the fields of archaeology and conservation, as well as more opportunities for her to participate in field work. This past season, she was in Ethiopia for five weeks working as conservator on the Shire Archaeological Project, directed by Willeke Wendrich, director of the Cotsen Institute.
The EASL was one of two laboratories featured in the Winter celebration of the Cotsen Institute, which provided an opportunity for students and faculty to become familiar with the facilities within the Cotsen Institute. For more information, contact Vanessa Muros, vmuros@ucla.edu, or visit ioa.ucla.edu/labs/experimental.
Published on
January 30, 2020
.