Home

/

In-Depth: Randi Danforth, Director of Publications, Cotsen Institute of Archaeology Press
In-Depth: Randi Danforth, Director of Publications, Cotsen Institute of Archaeology Press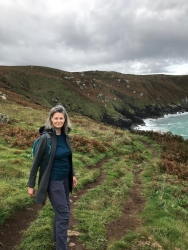 Ghirardelli. Tiffany. Mercedes. Cotsen Institute of Archaeology Press. What do all these names have in common? They represent top quality in their respective fields. While Randi Danforth may not have an eponymous brand, her leadership for the past seven years as director of publications at the Cotsen Institute of Archaeology Press has helped establish it as an internationally respected academic publisher, which has served to preserve cultural heritage through the documentation and publication of scholarly archaeological research since 1975. The following article is based on interviews with Danforth and some of those that she has worked with over the years.
Roz Salzman: How has Danforth impacted the operation of the Cotsen Institute Press?
Willeke Wendrich (Director of the Cotsen Institute): Before Randi came on board, the publications department had a high turnover. It functioned for a long time on the basis of volunteer editors. Ernestine Elster was at the cradle of the Cotsen Institute Press and headed the publications office for many years with great success. In 2011, I became editorial director as part of the effort of Chip Stanish to professionalize. We were at the start of fundamental changes and the move from books to online resources.
After a number of attempts to hire someone with strong publishing experience, Randi came to us from Cairo, where she was working for the American University in Cairo Press. As soon as Randi entered the publications office, there were huge changes. From the organization of the files to the contacts with everyone involved in the publication process—authors, reviewers, copyeditors, designers, distributors and audience—everything was suddenly miraculously running like a well-oiled machine. She also learns quickly. The entire field of electronic publishing and data publications was unknown to her, but she has made a point of getting up to speed and on top of it.
It is not just Randi's background in both archaeology and publishing that makes her so effective. She is communicative, interested, knowledgeable, and holds her own in negotiations. She also has made the Cotsen Institute Press extremely cost-effective. Randi furthermore has a great feel for what are good titles, back cover texts, as well as attractive covers and internal designs. She is also just a real fun colleague.
RS: What exactly does the Cotsen Institute of Archaeology Press publish?
Randi Danforth: The Cotsen Institute Press publishes high-quality academic volumes in seven different series. Our two most active series are Monographs and Monumenta Archaeologica. The monographs tend to be on a single subject: on a single site, or containing interpretive data on a single subject, such as funeral remains. Monumenta Archaeologica is the series in which we publish technical archaeological site data. We also have a few titles that more general audiences can access and enjoy.
When I started in March 2013, I came into about nine different titles in various states of publication. But that number has varied greatly over the years. Last year, we published one very large volume on early Athens, but so far this year, there are five books in production. It depends when everything shows up. There are usually projects in the pipeline, and sometimes we have been waiting for a manuscript for quite a while when it is suddenly submitted.
RS: How are submissions determined to be acceptable?
RD: The Cotsen Institute Press is committed to producing innovative volumes in a variety of formats. Acquisitions are monitored by an Editorial Board composed of distinguished UCLA faculty, all of whom are affiliated with the Cotsen Institute, representing different areas; and all submissions are accepted on the basis of peer review. The Editorial Board may look at a proposal and say: "we do not really think this is for us." It may be that the scope is not large enough or that it does not have the right format.
RS: Does the Cotsen Institute Press only publish the work of UCLA affiliates?
RD: No. This is definitely a global endeavor. We accept proposals from everywhere. It starts with an inquiry from an author. We just got a very interesting submission of a manuscript on a site in Burkina Faso. We are very happy about this because we want to augment our list with subjects in sub-Saharan Africa. Potential authors go on our website or will see us at the Society for American Archaeology annual meeting, query us at our book stand, and talk to me about submitting an idea. It is important to us to have wide-ranging geographic coverage.
One new project we have, which is quite exciting, is a co-publication with the Field Museum in Chicago to coincide with an exhibition they plan to open next year with the participation of eleven countries on the Balkan Peninsula. It is about the emergence in this area of the first kings of Europe, spanning 4,000 years of European prehistory. It is not just a catalog, as it also will have some of the first synthetic analytical essays on this period. The book will be beautiful because the Field Museum is commissioning the photographs of the objects in the museums before they come to the United States. There also will be information on archaeological sites, including maps and plans. Hopefully we can bridge our scholarly and general audiences with this publication.
Hardly anybody is doing this kind of publishing these days as it is very expensive. Greg Schachner, the chair of the interdepartmental program in archaeology, who is on our Editorial Board, pointed out that in anthropology, they are not really publishing books that much, but are publishing mostly journal articles that are available online. But in archaeology, we are known for having high quality publications that are well-edited, laid out, designed, and very well-produced. And our audience really appreciates that. So for people who want to publish with proper procedures and our imprimatur of excellence, the Cotsen Institute of Archaeology Press is a very prestigious name in the field. We currently have about 100 books on our list, both in and out of print.
Greg Schachner: The Cotsen Institute Press has flourished under Randi's leadership. She has been a great advocate for our press in the scholarly community, particularly at conferences. I believe our press is sought out by scholars from around the world because of its strong reputation, which has only improved during her tenure.
William A. Parkinson[1] (in a letter to Danforth): It is a massive service to the discipline that you continue to publish books like these. There are few other venues for publishing basic information, and it is absolutely critical for moving the field forward ... in North America there really is no other place to turn. You should reiterate this with the editorial board every chance you get. I am sure they already know it. But they need to be reminded that others in the discipline truly appreciate the essential service provided by the press.
RS: How is the Press supported?
RD: We have endowed funds at the Cotsen Institute, and we get income from book sales and author subventions. My goals and those of Willeke's are very complementary. As we are on a mission supported by the Cotsen Institute, we do not have to make a profit. But we do break even, which puts us in a good financial situation. I also keep a close eye on quality control and the organization of things. As an example, I found a great printer in Massachusetts, which is much more cost-effective than printing offset overseas. These days, we are doing digital printing. This means that authors can get color publications that are not much more expensive than black and white.
We also have the Jo Anne Stolaroff Cotsen Prize imprint, in honor of Lloyd Cotsen's late first wife, which is awarded to an outstanding publication by the Cotsen Institute. The award provides support for the production costs. It is a really beautiful tribute to her love of books, and it is awarded by the Editorial Board. Sixteen books have received the award during our history.
RS: How is the Cotsen Institute Press adapting to digital and electronic publishing?
RD: Willeke is very dedicated to the mission of publications and, being a modern researcher, she is also very dedicated to digital publications and open access. Deidre Whitmore, the manager of the Digital Archaeology Laboratory and our Publications Manager, is the person who is making that happen. When we publish a book now, Deidre will interview the authors before we begin the process to see what components can be offloaded into a digital archive. This is welcomed by authors and readers alike, who can access our digital ancillary material with search terms and download tables to use for their own purposes. Some books, however, do not have that aspect. We do it depending on the aspirations of the authors, as well as the nature of the book itself and the data in it. One of the most brilliant illustrations of this is the fantastic book Images in Action, about Andean iconography. It has 700 color photographs and, with a few exceptions, all of the illustrations are online with metadata and expanded information, with links that anybody can access. Images in Action is now also available on eScholarship. One of the most exciting digital entries is our latest book, Landscape History of Hadramawt, about the roots of agriculture in southern Yemen.
Deidre Whitmore: I appreciate Randi's adventurous attitude. She is willing to explore and try new ways of publishing, whether testing various avenues for digital books or publishing data in accessible formats outside of the printed book. Research is not static, and it is important to have publishers that are willing to try to evolve alongside scholars.
RD: Because of the quarantine, libraries and resources all over the world have shut down. The nature of research and obtaining information has shifted rapidly to online resources, and to make our publications more accessible, we have uploaded digital versions of nearly one hundred books published by the Cotsen Institute of Archaeology Press, which can now be read online, at eScholarship.  This has been received enthusiastically by researchers, graduate students, fans of archaeology, and archaeologists who want to access our books but may be in areas of the world where printed books are expensive or difficult to access.
RS: How do people find out about new publications?
RD: We send out a newsletter, which currently has about 2,000 recipients, ranging from librarians to archaeologists and others who have previously expressed an interest in our books. We try to get the book reviewed in journals, and our distributor ISD promotes our list. We have about 40 titles on Amazon in Kindle editions. We also actually sell books out of our office. We have not yet had a book sale this year, but plan to have a big one when we get back on campus.
RS: How did your background lead you to the Cotsen Institute Press?
RD: I started out attending Sarah Lawrence College in medieval studies. I was studying in Oxford, England, when I found out I had gotten into the interdepartmental program in archaeology at Yale University as a transfer student, where I got a BA in archaeology. But, in the end, I decided not to continue with it. I worked as a graphic designer in Boston, where I am basically from. For the next few years, I worked at the Boston Globe in design and food styling. And I started writing. I eventually moved to New York, where I was a food stylist, and then, in 1984 got a job in Los Angeles at Bon Appétit magazine, where I became an editor and art director. I was senior editor when my husband and I moved to Vermont. He had gotten his PhD in applied linguistics at UCLA. I was able to continue as a contributing editor to Bon Appétit for seven years. In 2003, we moved to Egypt because he got a job at the American University in Cairo. I met Willeke there and ended up editing a big book on the preservation of the cultural heritage of Egypt, projects that had been funded by USAID, through the American Research Center in Egypt.
I made the transition to academic publishing as an acquisitions editor at the American University in Cairo. In 2011, during the Egyptian uprising, I started looking for other jobs because there really was no way to advance my career in Cairo. I got this job at the Cotsen Institute in 2013. Many people think that to be a journalist you have to go to journalism school. I think that in order to work successfully in publishing or journalism, or indeed anything that requires writing, you just have to have a good education. And I was really lucky to have a very good education. I have never felt the need to get an advanced degree. The best education is practical experience.
From the beginning, I was drawn to archaeology because I was raised in a 200-year-old house in Massachusetts and surrounded by history. I think it imprinted on me at a very young age because I grew up in a town that was founded in 1635, and half of my family can be traced back to England in the sixteenth century.
RS: What are you looking forward to most after the stay-at-home restrictions are relaxed?
RD: I miss seeing the beautiful campus and doing my workout classes at the Drake stadium: lifting barbells again and doing pull-ups and push-ups. I do walk in my neighborhood, but I miss the thrill of being on campus. I also like having a schedule. Although I sometimes can be in my office for days without seeing anyone, it is good to know that there are people around.
RS: I know you do not like to make a big deal out of it, but the preferred pronunciation of your first name is "Rondi." Like in James Bondi.
RD: Well, it is Norwegian and it is my great-great-grandmother's name. But nobody is going to pronounce it like that at first. I hate correcting people, but it is nice to hear it pronounced correctly.
The catalog of books published by the Cotsen Institute of Archaeology Press can be found here. Digital versions of many of these can be read on eScholarship.
Read more about ways to support research and publications in archaeology and conservation at the Cotsen Institute and CIoA Press programs here.

Endnote
[1] Curator and Professor of Anthropology, Field Museum; co-author of the upcoming Cotsen Institute of Archaeology Press book Bikeri: Two Early Copper-Age Villages on the Great Hungarian Plain.
Published on
June 30, 2020
.