Lothar von Falkenhausen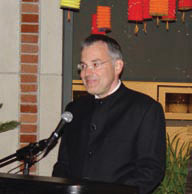 Professor, Department of Art History
Fowler Bldg A344
Phone
: (310) 825-6046
Fax:
(310) 206-4723
Email
Class Websites
East Asian Lab
Education
Ph.D., Harvard University, 1988
Areas of Interest
Archaeology of China, East and Inner Asia, coordination of archaeological materials and historical sources on ancient China, economic history and history of science and technology
Profile
From 1999-2004, Professor von Falkenhausen served as the American co-PI of the ongoing UCLA-Peking University Joint Project on Landscape Archaeology and Ancient Salt Production in the Sichuan Region. Excavations were undertaken at the salt-producing site of Zhongba, which was in operation from the 18th century BC to ca. 1964.  The results have been published in a three-volume monograph series.
Since 2010, Professor von Falkenhausen has served as Instructor of Record for the International Archaeological Field School at Yangguanzhai, in Gaoling (Shaanxi, China),  undertaken in cooperation with Xibei University and the Shaanxi Archaeological Academy.  Yangguanzhai is a large moated settlement from the early to middle fourth millennium BC (Miaodigou Phase).
Professor von Falkenhausen holds a yearly visiting appointment as Changjiang Professor at Xibei University (Xi'an, China).  He is a member of the American Academy of Arts and Sciences and of the American Philosophical Society.
Publications

Lothar von Falkenhausen Publications (April 2020).pdf